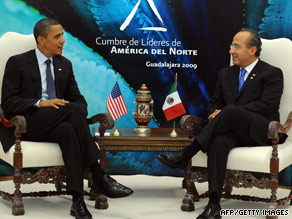 President Obama meets with Mexican President Felipe Calderon on Sunday in Guadalajara.
MEXICO CITY, Mexico (CNN) - President Obama will meet with the leaders of Mexico and Canada on Monday, with the three expected to discuss a broad range of issues.
Obama arrived in Guadalajara, Mexico's second-largest city, Sunday evening for the day and a half of talks with Mexican President Felipe Calderon and Canadian Prime Minister Stephen Harper. They are not expected to make any major announcements.
In the days leading up the North American Leaders' Summit, officials said the trio would discuss the economy, drug violence and the environment. They are expected to hold a joint news conference at 12:30 p.m. ET Monday.
"The themes of this summit are: one, economic recovery and competitiveness; two, citizen safety and security; and three, clean energy and climate change. All are core priorities of this administration," Gen. James Jones, U.S. national security adviser, said before the summit.
More than 4,000 policemen and soldiers were maintaining a security perimeter around the building where the meetings were to take place.