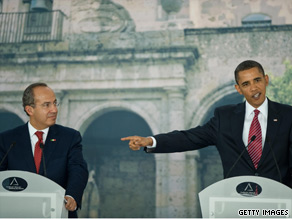 At a press conference in Mexico Monday, President Obama and Mexican President Felipe Calderon discussed fighting drug cartels.
GUADALAJARA, Mexico (CNN) - President Obama said Monday the United States remains Mexico's partner in the fight against drug cartels, despite some calls in the United States to delay counter-narcotics aid because of alleged human rights violations by Mexican soldiers.
Mexican President Felipe Calderon reaffirmed his commitment to transparency and human rights in his offensive against the cartels, Obama said.
Some $100 million in anti-drug aid, known as the Merida Initiative, could be delayed because of concerns about human rights violations, it was reported last week.
"We have been very supportive of the Merida Initiative, and we remain supportive," Obama said.
Obama also said the United States would work to reduce demand for drugs and stop the illegal flow weapons south to Mexico.
The remarks came at a summit of North American leaders in Guadalajara, Mexico.
Canadian Prime Minister Stephen Harper also expressed support for Mexico's strategy, saying that the drug cartels were a problem shared by all three countries.