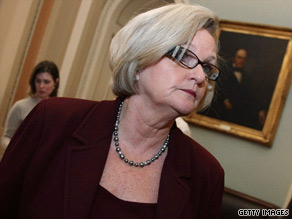 Sen. Claire McCaskill, D-Missouri, says her goal is to have a 'civil' debate at town hall meetings.
(CNN) - Senators, like many in the House, continue to face grilling from constituents concerned about proposed health care legislation before Congress.
Although some meetings have been "civil," as one senator pointed out Monday, at least one lawmaker has received a threat from those angry about a plan being devised by Democrats.
Three House committees are working have been working on a plan. On the Senate side, two committees are working on a proposal - before negotiations begin between top members of both chambers.
And the negotiations are heating up. On Thursday, Obama met privately at the White House with the "Gang of Six," three Democrats and three Republicans working to find middle ground on the issue.
Not all town hall meetings have been raucous. Sen. Claire McCaskill, D-Missouri, held a town hall meeting Monday morning in Kennett, Missouri, to help clarify what she says is some of the misinformation that is being circulated.
Meanwhile, for one member of Congress, the anger over health care has become dangerous.