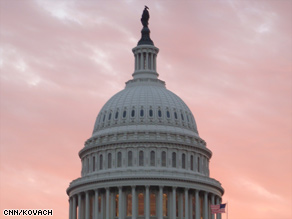 The CNN Washington Bureau's morning speed read of the top stories making news from around the country and the world.
WASHINGTON/POLITICAL
For the latest political news: www.CNNPolitics.com.
CNN: Question riles Clinton; translation might have been off
The question may have been lost in translation, but a visibly angry Secretary of State Hillary Clinton bluntly told a town-hall meeting in the Democratic Republic of Congo on Monday, "I will you tell you my opinion, I'm not going to channel my husband."
CNN: Disruptions drown out debate at health care meetings
The battle raging over President Obama's health care plan has spread from across the aisles in Congress to across the country.
CNN: Town halls push on amid fears of more disruptive protests
Senators, like many in the House, continue to face grilling from constituents concerned about proposed health care legislation before Congress.
CNN: White House launches health care 'reality check' Web site
The White House is stepping up its efforts to promote health care reform with the launch of a new Web initiative that officials say is designed to combat misinformation about the issue.
CNN: Palin urges restraint at town hall meetings
Despite Sarah Palin's suggestion that President Obama's health care plan will institute "death panels" to evaluate elderly and disabled citizens — a claim that was quickly debunked — her latest message to the public is a bit more conciliatory.
CNN: Huckabee blames Democratic allies for town hall tensions
Former Arkansas Gov. Mike Huckabee accused Democratic congressional leaders of trying to suppress free speech Monday and cast blame for the raucous health care town hall meetings on the Democratic Party's political allies.
CNN: Poll: Democrats lose support, but GOP sees no benefit
A national poll released Monday indicates the Democratic Party is becoming less popular with voters but suggests that Republicans haven't been able to capitalize on the Democrats' downturn.
CNN: GOP senator wants Sanford to be impeached
South Carolina Gov. Mark Sanford, already under fire for an extramarital relationship, should be impeached for abusing state finances, a Republican state senator said Monday.
CNN: Obama talks drugs, trade, immigration on Mexico visit
President Obama said Monday the United States remains Mexico's partner in the fight against drug cartels, despite some calls in the United States to delay counter-narcotics aid because of alleged human rights violations by Mexican soldiers.
CNN: Eunice Kennedy Shriver's relatives called to hospital
Relatives of Eunice Kennedy Shriver, a sister of President Kennedy, were summoned Monday to a hospital on Cape Cod, Massachusetts, a source close to the family told CNN.
CNN: Alaskan lawmakers say 'thanks but no thanks' to Palin veto
Just one week after Sarah Palin stepped down as governor of Alaska, Alaskan lawmakers succeeded in overriding her veto of federal stimulus dollars.
CNN: America's Health Tour: Chattanooga, TN
The CNN Express is on the road and we are on a mission: Let Americans tell their own economic story. The first stop? Chattanooga, Tennessee.
CNN: Political family names bring shame as well as fame
For some families, like the Kennedys, the Bushes and the Roosevelts, politics runs in the blood. But as history shows, coming from a powerful political family doesn't mean a free ride to the top.
New York Times: Obama Sets Immigration Changes for 2010
Flanked by his counterparts from Mexico and Canada, President Obama on Monday reiterated his commitment to pursuing comprehensive immigration reform, despite his packed political agenda and the staunch opposition such an initiative is likely to face.
New York Times: Bill Clinton Celebrates His 63rd in Las Vegas
No one can say former President Bill Clinton doesn't know how to throw a birthday party for former President Bill Clinton.
Washington Post: White House Objects to Poster That Invokes Obama Children
The posters went up last week, 14 in Union Station. On each of the large displays, a thought bubble rises up from a picture of a beautiful 8-year-old: "President Obama's daughters get healthy school lunches. Why don't I?"
Washington Post: Deeds Throws Abortion Gauntlet
Surrounded by female activists and lawmakers, Virginia Democratic gubernatorial candidate R. Creigh Deeds on Monday launched an assault on his opponent's record of working to restrict abortions, calling it evidence that the Republican has the wrong priorities for the state.
Wall Street Journal: Congress Retreats Over Jet Purchase
House leaders late Monday dropped plans to spend $550 million on Air Force passenger planes for use by senior government officials, a sum that more than doubled the Pentagon's official request and had drawn strong public criticism.
NATIONAL
For the latest national news: www.CNN.com.
CNN: Manson's lasting legacy: 'Live freaky, die freaky'
Forty years ago, a group of young people led by a charismatic, 5-foot-2-inch ex-con named Charles Manson set out on a murderous spree in Los Angeles, California. They planned to spark an apocalyptic race war that Manson called "Helter Skelter," after a song by the Beatles.
CNN: Divers find plane, 8th body in Hudson River
Divers found an eighth body Monday from the weekend collision of two aircraft over the Hudson River, leaving only one victim unaccounted for.
CNN: Ex-homeless woman leaves $150,000 to Hebrew University
A Jewish Holocaust survivor who later lived on the streets of New York City has left half of her $300,000 estate to Hebrew University, the school said Monday.
CNN: Feds search NOPD in post-Katrina shooting investigation
An office of the New Orleans Police Department was searched last week in connection with a federal investigation into the shootings of two men on a bridge just after Hurricane Katrina, authorities said.
CNN: 24 riders rescued from California roller coaster
A mechanical failure on a roller coaster at an amusement park in Santa Clara, California, on Monday afternoon left 24 people stranded for hours on the ride, some as high as 80 feet off the ground, authorities said.
New York Times: Disabled Students Are Spanked More
More than 200,000 schoolchildren are paddled, spanked or subjected to other physical punishment each year, and disabled students get a disproportionate share of the treatment, according to a new study.
Washington Post: Too Young for A Midlife Crisis
Armed with a degree in political science from Northeastern University, Heidi Buchanan came to the District in June 2006 to find her dream job in public policy. What she found instead was that life after college wasn't all she had hoped it would be.
USA TODAY: Tarmac ordeal renews push for fliers' rights
The situation on board was horrendous: Babies were screaming, odor from a toilet filled the cramped plane and passengers couldn't escape.
Wall Street Journal: Slump Strains Church Finances as Need Grows
When leaders of Bent Tree Bible Fellowship Church sat down to plan this year's budget, they knew that extra prayer was in order.
Wall Street Journal: Dealers Scramble to Find Fuel-Efficient Cars
With the "cash for clunkers" program generating more than 245,000 vehicle sales in two weeks, car dealers intensified pressure on auto makers Monday to ramp up production.
Wall Street Journal: Cities Tolerate Homeless Camps
Last summer, police responding to complaints about campfires under a highway overpass found dozens of homeless people living on public land along the Cumberland River.
LA Times: With jobs harder to find, work gets easier for Army recruiters
If you're looking for Michael March, he's probably in the basement, slogging on the treadmill. Or he may be doing push-ups in front of the TV.
INTERNATIONAL
For the latest international news: http://edition.cnn.com/
CNN: Myanmar junta returns Suu Kyi to house arrest
Myanmar opposition leader Aung San Suu Kyi was sentenced on Tuesday to 18 months of house arrest.
CNN: Parents seek answers after children abducted
Whenever Deng Huidong sees a little boy around 3 years of age, she can't help but wonder if he's her son. Her son, Ye Ruicong, was snatched by human traffickers more than a year ago when he was just 9 months old.
CNN: Taliban still a major threat 8 years later
It has been nearly eight years since U.S. forces overthrew the Taliban leaders of Afghanistan, but the war against the Taliban insurgency is bloodier than ever.
CNN: Taliban with drug ties now in U.S. cross-hairs
The U.S. military hopes to kill or capture some 50 Afghan drug traffickers with financial ties to the Taliban in an effort to shut down one of the insurgency's biggest sources of revenue, a U.S. Senate report says.
CNN: Children's DNA used to ID terror suspect
Indonesian authorities are conducting DNA tests to determine if a man killed in an 18-hour raid last week is the country's most wanted terror suspect, Noordin Top.
CNN: Typhoon aftermath
The wrath of Typhoon Morakot has affected nearly 9 million people across four coastal China provinces and killed dozens in Taiwan, officials said Tuesday.
CNN: DNA tests to identify World War I bodies
DNA testing to try to identify hundreds of bodies buried in a mass grave during World War I will start this week, the British and Australian ministries of defense announced Monday.
CNN: China mourns death of ex-leader's wife, Communist stalwart
Chinese leaders Monday mourned the death of Zhuo Lin, wife of former national leader Deng Xiaoping.
CNN: Remembering 'The Diary of Anne Frank'
Anne Frank's account of hiding from the Nazis in Amsterdam during World War II, published posthumously in English as "Anne Frank: The Diary of a Young Girl," has moved millions of readers across the decades.
CNN: Ecuador's Correa kicks off second presidential term
Ecuadorian President Rafael Correa was sworn in for a second term on Monday, reaffirming in a speech his dedication to the country's poor and accusing the media of aiding his critics.
New York Times: Mexico's Drug Traffickers Continue Trade in Prison
The surveillance cameras captured it all: guards looking on nonchalantly as 53 inmates — many of them associated with one of Mexico's most notorious drug cartels — let themselves out of their cells and sped off in waiting vehicles.
New York Times: N. Korean Ship Searched for Radioactive Material
Indian authorities have detained a North Korean vessel and are searching it for radioactive material, the first time a ship has been seized and boarded under sanctions adopted by the United Nations Security Council in June.
New York Times: Head of MI6 Denies Role of Agency in Torture
The head of Britain's Secret Intelligence Service has joined other senior British government officials in the defense of Britain's counterterrorism policies, rejecting accusations that his agency has colluded in the torture of terrorist suspects being interrogated abroad.
Washington Post: Congo's Rape Epidemic Worsens During U.S.-Backed Military Operation
For the women of eastern Congo, a U.S.-backed Congolese military operation meant to save them from abusive rebels has turned into a nightmare of its own.
Washington Post: U.S. Officials Looking at Karzai Rival for Key New Post
Senior American officials are expressing renewed interest in a post-election plan for Afghanistan that would establish a chief executive to serve beneath President Hamid Karzai if he wins a second term next week, Afghan officials said Monday.
BUSINESS
For the latest business news: www.CNNMoney.com.
CNNMoney: Fed not ready to use other R-word: Recovery
Suddenly, it seems, economists everywhere are starting to talk about the end of the recession.
CNNMoney: Bank overdraft fees to total $38.5 billion
U.S. banks will collect a record $38.5 billion in overdraft fees this year, with nearly all the revenue paid by just 10% of customers, according to a research report released Monday.
CNNMoney: Judge delays Bank of America ruling
A federal judge refused Monday to sign off on Bank of America's $33 million settlement of a Securities and Exchange Commission lawsuit, saying neither side convinced him that the settlement was fair to the public.
New York Times: Judge Attacks Merrill Pre-Merger Bonuses
Reigniting a major controversy over Wall Street pay, a federal judge on Monday sharply criticized the bonuses that Merrill Lynch hurriedly paid out before it was acquired by Bank of America last year and pointedly questioned a federal settlement that had seemed to put the issue to rest.
New York Times: American Graduates Finding Jobs in China
Shanghai and Beijing are becoming new lands of opportunity for recent American college graduates who face unemployment nearing double digits at home.
In Case You Missed It
To watch the latest interviews and reporting: http://www.cnn.com/video.
CNN: China's stolen children
The parents of missing kids in China complain of police indifference and harassment. CNN's John Vause reports.
CNN: Problem 'under control'
The head of China's human trafficking says the problem of stolen kids is "under control." CNN's John Vause reports.
Subscribe to the CNN=Politics DAILY podcast at http://www.cnn.com/politicalpodcast.
And now stay posted on the latest from the campaign trail by downloading the CNN=Politics SCREENSAVER at http://www.CNN.com/situationroom.