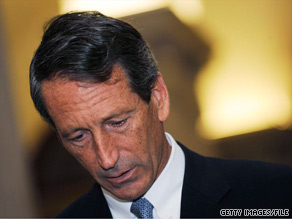 Sanford did a round of radio interviews on Wednesday.
(CNN) - South Carolina Gov. Mark Sanford opened up about the state of his family on Wednesday - the first time he has done so since his wife, Jenny, moved out of the governor's mansion last week.
Asked during a radio interview how he's coping with being alone in the mansion, Sanford responded: "That part's hard."
"But there are consequences for any mess-up that we have in life, and that's one of them," the governor told Columbia-based WVOC radio. "That's probably the most bitter part of it."
Sanford said he and Jenny decided to move his four boys to Charleston for the school year because "they deserve to be out of the fishbowl they've been in."
"They've been subjected to a lot this summer," he said. "That was a result of my actions, but nonetheless it put them in a spot they really didn't want to be."
"The aftermath of any of these things is not going to be ideal," Sanford added, referring to his admission of an extramarital affair and the ensuing political fallout. "We take it a day at a time."
The governor did a round of local radio interviews Wednesday and spent much of his time responding to reports that he violated state law by booking expensive international flights and using state planes for personal and political business.