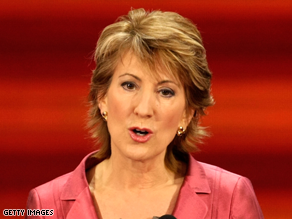 Fiorina is considering a run for the Senate .
(CNN) - Former Hewlett-Packard CEO Carly Fiorina is taking the initial steps to challenge California Democrat Barbara Boxer for her Senate seat, a move that could lay the groundwork for one of the most high profile and expensive contests of 2010.
Fiorina, the first woman to lead a Fortune 500 company and a former surrogate for John McCain's presidential bid, filed a tax identification number and registered a campaign committee with the IRS Tuesday called "Carly for California."
"The people of California have serious concerns about job creation, economic growth and the role of government in solving problems that touch each of ourlives," Fiorina said in a statement. "I have received a great deal of encouragement to make a run for the Senate in 2010 from people across the political spectrum because these are all issues that need focused attention in Washington, D.C."
Under the new committee, Fiorina will begin to aggressively raise money as well as speak with policy experts and campaign advisors, spokeswoman Beth Miller told CNN.
Boxer's campaign coffers are already loaded: the three-term senator's latest filing with the Federal Elections Commission shows she raised well over $2 million during the first half of the year and has close to $5.5 million cash on hand.
Though Fiorina does not have a set timetable to formally announce a Senate bid, Miller said the former Hewlett-Packard CEO's window to make a decision is only a couple of months given a GOP primary is set for next June.
A former economic adviser and visible presence on cable news, Fiorina was largely sidelined from public appearances from the McCain campaign after telling an interviewer she didn't think either member of the GOP presidential ticket was qualified to run a major company.
Democrats wasted little time in attacking Fiorina's latest move.
"This is a person who was fired from Hewlett Packard for running the company into the ground, fired from the McCain Presidential Campaign for incompetence, and now thinks the people of California are going to hire her," said Democratic Senatorial Campaign Committee spokesman Eric Schultz.
Should she ultimately jump into the Senate race, Fiorina would be the second high-profile former CEO running for statewide office in California. Former e-Bay CEO Meg Whitman announced last month she was exploring a run for California governor.