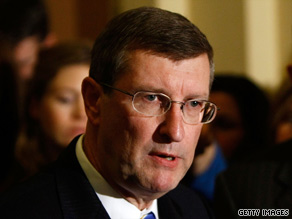 Democratic Sen. Kent Conrad, of North Dakota, says a public option plan might not make it through Congress.
WASHINGTON (CNN) - While a government-run public health care option irks conservatives, and even some fiscally minded Democrats, the idea of health care cooperatives has emerged as an option in the reform debate.
Small health care cooperatives have worked in a couple of markets. But whether the idea can be applied on a national scale is debatable.
Sen. Kent Conrad, chairman of the Senate Budget Committee, is pushing the co-op idea as an alternative to a government-sponsored insurance program that would compete with private insurers. He doesn't think a government option will pass in the Senate.
Conrad, a North Dakota Democrat, told CNN's "American Morning" on Tuesday that his model could attract 12 million members and "be the third-largest insurer in the country and be a very effective competitor [with private insurance companies]."
Related: Doctors, patients praise co-ops
"If you believe competition helps drive down costs, then they would certainly contribute to holding down costs," Conrad said.
But Tim Jost, a professor at Washington and Lee University, said that Conrad is not offering concrete statistics on how the plan will help reform health care.
"I have not seen anything, other than Sen. Conrad's statements to the press, explaining how this is going to work," he said. "He put out a couple of one-pagers early on, but he is talking about this actuarial data. Let's make it public, let's find out who the actuaries are."