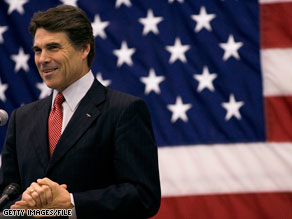 Texas Gov. Rick Perry fired back at Sen. Kay Bailey Hutchison on Tuesday.
(CNN) - One day after Sen. Kay Bailey Hutchison formally challenged him for his job, Texas Gov. Rick Perry fired back.
"I understand the senator's been in Washington for 16 years, and she may not have a grasp of what's going on in the state of Texas. She may not know or understand the progress we've made in this state," Perry said at a news conference Tuesday in Austin, Texas.
Hutchison officially announced her bid for Texas governor Monday, The move pitted her against Perry, a fellow Republican, and sparked what could be a bitter intra-party fight in the Lone Star State. As she kicked off a five-day, 19-stop "Texas Can Do Better" tour, the four-term U.S. senator slammed Perry's years in office for what she calls arrogance and mistakes, and she said "he's trying to stay too long - 14 years, maybe longer."
Perry took over as Texas governor in late 2000, after then-Gov. George W. Bush stepped down to serve as president. Perry won election to a full term in 2002, and was re-elected four years later.
Perry said Tuesday he's "pretty proud of what we've done here in Texas. This is a low tax state" - and gave a taste of how he plans to run in a primary battle against Hutchison.
"This is pretty simple to me. This is going to be Washington versus Texas. Does Washington have the best answers or does Texas have the best answers," Perry told reporters.
Hutchison says she'll give up her Senate seat later this year to focus solely on the governor's race.