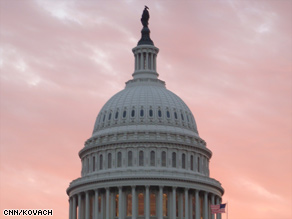 The CNN Washington Bureau's morning speed read of the top stories making news from around the country and the world.
WASHINGTON/POLITICAL
For the latest political news: www.CNNPolitics.com.
CNN: Praise from doctors, patients on health cooperatives
Some of the strongest support for health care cooperatives' place in the national effort to reform the nation's health care system comes from those who experience a co-op's care every day: doctors and patients.
CNN: Getting past the lingo of the health care debate
Are you confused by all the back and forth on health care reform? Here's a guide to some of the terms commonly tossed about in the debate.
CNN: Obama, Clinton meet to discuss North Korea trip
Former President Bill Clinton met for 70 minutes Tuesday with President Barack Obama to brief him on Clinton's trip to North Korea earlier this month to secure the release of two jailed journalists.
CNN Poll: Was Palin's resignation a smart move?
A new national poll suggests that most Americans don't think Sarah Palin's decision to step down as Alaska governor was a smart political move.
CNN: Poll: Americans split on public option
The public option: It's a lighting rod in the current storm of health care reform. Federal lawmakers are split over whether such a government option should be included in any bill that comes out of Congress — and a new national poll indicates that Americans are equally divided.
CNN: Obama follows Clinton's path but hopes for a different ending
With his push for health care reform on the line, the president delivered a message of urgency to the public:
CNN: Are health care co-ops a better alternative to public option?
While a government-run public health care option irks conservatives, and even some fiscally minded Democrats, the idea of health care cooperatives has emerged as an option in the reform debate.
CNN: Senator says he asked Obama to back off public insurance option
The lead Republican senator in bipartisan health care negotiations said Tuesday that he urged President Obama this month to make clear he would accept a bill without a government-funded public insurance option.
CNN: Fiorina takes initial step to challenge Boxer
Former Hewlett-Packard CEO Carly Fiorina is taking the initial steps to challenge California Democrat Barbara Boxer for her Senate seat, a move that could lay the groundwork for one of the most high profile and expensive contests of 2010.
CNN: House Democrat: 'Terrible miscalculation' to skip public option
A Democrat on the Energy and Commerce Committee in Congress said Tuesday that he would "have to think long and hard" about voting in favor of a health care bill that did not include a public option.
CNN: Leading House Republican wary of health care co-op
Georgia Republican Tom Price, the chairman of the House Republican Study Committee and a medical doctor, came out against current proposals of a nonprofit health care cooperative to compete with private insurers, calling it "simply another name for a public option."
CNN: Perry fires back in Texas GOP gov battle
One day after Sen. Kay Bailey Hutchison formally challenged him for his job, Texas Gov. Rick Perry fired back.
CNN: Columnist Robert Novak dies at 78
Conservative columnist and former CNN "Crossfire" co-host Robert Novak has died after a yearlong battle with cancer, his family said Tuesday. He was 78.
New York Times: Democrats Seem Set to Go It Alone on a Health Bill
Given hardening Republican opposition to Congressional health care proposals, Democrats now say they see little chance of the minority's cooperation in approving any overhaul, and are increasingly focused on drawing support for a final plan from within their own ranks.
New York Times: In North Korea, Clinton Helped Unveil a Mystery
The visit was arranged under a veil of secrecy with the help of an unlikely broker: a high-level American intelligence officer who spent much of his career trying to unlock the mysteries of North Korea.
Washington Post: After Taking In the Clunkers, Car Dealers Report an Extended Wait for the Cash
Car dealers are growing increasingly impatient with the government's slow pace in reimbursing them for accepting trade-ins as part of its popular "Cash for Clunkers" program, even though Transportation Department officials say they are working to address the delays.
Washington Post: Debate's Path Caught Obama by Surprise
President Obama's advisers acknowledged Tuesday that they were unprepared for the intraparty rift that occurred over the fate of a proposed public health insurance program, a firestorm that has left the White House searching for a way to reclaim the initiative on the president's top legislative priority.
NATIONAL
For the latest national news: www.CNN.com.
CNN: Bill becomes Category 3 hurricane
Hurricane Bill churned in the Atlantic Ocean toward the west-northwest as a major Category 3 hurricane Tuesday evening.
CNN: Michael Jackson doctor: 'I told the truth'
Dr. Conrad Murray, the physician under investigation in the death of singer Michael Jackson, said in a video posted online Tuesday that he has "faith the truth will prevail."
CNN: Autistic boy saw Florida couple slain, documents say
The son of a Florida couple known for adopting special-needs children was in his parents' room when they were slain in a home invasion last month, according to documents released by prosecutors.
CNN: Sweet! Researchers' device 'tastes' sweeteners
A handheld device the size of a business card can be used to "taste" the sweetness in food and drinks, say researchers, who add that it could be an early step toward developing a fully artificial tongue.
CNN: Disney performer dies after suffering head injury
A Disney stunt performer died Monday night after suffering an injury during a rehearsal, company and local officials said.
New York Times: F.B.I. Agents' Role Is Transformed by Terror Fight
The report last month was chilling: a 55-gallon drum of radioactive material had gone missing during shipment from North Carolina to California. Even worse, the person who signed for the cargo was not an employee of the company that ordered the load.
New York Times: An Unexpected Ally's Road to Championing Same-Sex Marriage
Theodore B. Olson's office is a testament to his iconic status in the conservative legal movement. A framed photograph of Ronald Reagan, the first of two Republican presidents Mr. Olson served, is warmly inscribed with "heartfelt thanks." Fifty-five white quills commemorate each of his appearances before the Supreme Court, where he most famously argued the 2000 election case that put George W. Bush in the White House.
New York Times: Senator Moves to Stop Scientific Ghostwriting
A growing body of evidence suggests that doctors at some of the nation's top medical schools have been attaching their names and lending their reputations to scientific papers that were drafted by ghostwriters working for drug companies — articles that were carefully calibrated to help the manufacturers sell more products.
Washington Post: Whole Foods Devotees Lash Out at CEO
Whole Foods aficionados who assumed the company's management was as crunchy as the brand are feeling betrayed.
USA TODAY: States get tough on driving menaces
States are trying to put the brakes on bad driving by targeting "super speeders," lane hogs and those guilty of multiple moving violations.
USA TODAY: RFID sounds the alarm when doctors, nurses don't wash up
Making sure doctors and nurses wash their hands is the first line of defense against infections in hospitals. But health care workers often get too busy or just forget to do it. A study published in 2004 in the Annals of Internal Medicine found that only 57% of doctors always washed their hands between visiting patients.
INTERNATIONAL
For the latest international news: http://edition.cnn.com/
CNN: NATO on guard as big turnout expected in Afghan elections
Despite high-profile suicide bombings and attacks by the Taliban, NATO commanders believe voter turnout will be strong in Afghanistan during Thursday's national elections.
CNN: Violence, graft overshadow Afghan elections
Welcome to democracy, Afghan-style. An incumbent president and 38 challengers, including two women, are vying for the votes of 17 million registered Afghans against a backdrop of war, graft, poverty and illiteracy.
CNN: Telescopes to show universe soon after Big Bang
It may not be possible to travel back in time, but seeing stars and galaxies as they looked millions or even billions of years ago is no problem thanks to telescopes, the closest thing we have to time machines.
CNN: President Ma says sorry again for typhoon response
Taiwan's President Ma Ying-jeou apologized again today for the slow response to Typhoon Morakot and said he plans sweeping changes to the country's rescue agencies and may punish some government officials.
CNN: American held in Myanmar heads home
John Yettaw, the American convicted in Myanmar of illegally entering the country to visit pro-democracy leader and Nobel Peace laureate Aung San Suu Kyi, left Thailand Wednesday, authorities and government officials said.
CNN: Study: Global warming sparked by ancient farming methods
Ancient man may have started global warming through massive deforestation and burning that could have permanently altered the Earth's climate, according to a new study by researchers at the University of Virginia and the University of Maryland-Baltimore County.
CNN: Man escapes charges for barbecuing pet dog
A man who roasted his pet dog to enjoy as a meal with his family and friends escaped prosecution after authorities in New Zealand determined the animal was killed humanely.
New York Times: Afghan Long Shots Seek Presidency, or Another Job
Away from the big rallies and famous candidates, there are several dozen barely known candidates running for president of Afghanistan in Thursday's election, among them two women, a 62-year-old mullah, a caretaker and a fortuneteller.
Washington Post: 'We Don't Have Any Alternative to Karzai'
From the gravel lot where he repairs cars, Babarak Shinwari can see the spot where the suicide bomber killed three of his cousins last year. At his home nearby, where his four children live without electricity, he says he prays to God for a president who can bring peace and security.
Wall Street Journal: Damascus Agrees to Help Monitor Iraqi Border
The Obama administration and Damascus tentatively agreed to establish a tripartite committee, with Baghdad, to better monitor the Syrian-Iraqi border as the Pentagon draws down American troops from Iraq in coming months, said senior U.S. officials.
Los Angeles Times: British town becomes the epicenter of mourning for the nation's war dead
Hundreds turn out for what has become a ritual in Wootton Bassett, whose market street can be read as something of an index of the growing public concern over the war in Afghanistan.
BUSINESS
For the latest business news: www.CNNMoney.com.
CNNMoney: GM bringing back 1,350 workers
General Motors is upping production and calling 1,350 of its U.S. and Canadian auto workers back to work due to increased demand for its vehicles.
CNNMoney: Whole Foods sweats CEO's health care manifesto
Whole Foods' CEO John Mackey is known for his tendency to shoot from the hip. This time, Mackey may have shot himself - and his company's brand - in the foot by getting too personal on the very public issue of health care reform which has sparked calls to boycott the grocer.
Fortune: Bad banks - They're baaack!
Facing mounting bank failures, regulators are putting a new twist on a familiar idea: splitting a bank's good assets from the bad ones.
New York Times: In Appraisal Shift, Lenders Gain Power and Critics
Mike Kennedy, a real estate appraiser in Monroe, N.Y., was examining a suburban house a few years ago when he discovered five feet of water in the basement. The mortgage broker arranging the owner's refinancing asked him to pretend it was not there.
Bloomberg: Buffett Says U.S. Federal Debt Poses Risks to Economy, Dollar
The U.S. must address the massive amounts of "monetary medicine" that have been pumped into the financial system and now pose threats to the world's largest economy and its currency, billionaire Warren Buffett said.
Los Angeles Times: California to get $1.5-billion loan from JPMorgan Chase
The loan would help the state end its IOU program a month ahead of schedule. It would be repaid in late September and thus poses little risk to the bank.
In Case You Missed It
To watch the latest interviews and reporting: http://www.cnn.com/video.
CNN: Al Qaeda's secret bunkers
In this CNN exclusive Arwa Damon travels to Iraq's western desert to al Qaeda bunker and execution grounds
U.S. in Afghanistan
ITN's Nick Paton Walsh joins U.S. soldiers in Afghanistan as they come under attack.
Subscribe to the CNN=Politics DAILY podcast at http://www.cnn.com/politicalpodcast.
And now stay posted on the latest from the campaign trail by downloading the CNN=Politics SCREENSAVER at http://www.CNN.com/situationroom.