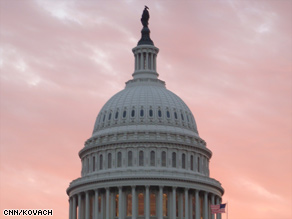 The CNN Washington Bureau's morning speed read of the top stories making news from around the country and the world.
WASHINGTON/POLITICAL
For the latest political news: www.CNNPolitics.com.
CNN: N. Korea feels 'owed' direct talks with U.S., Richardson says
North Korea believes it's owed bilateral talks with the United States after the communist government released two detained American journalists this month - a notion that senior Obama administration officials quickly rejected on Wednesday.
CNN: 'Talk to neighbors, spread the facts' on health care, says Obama
President Obama appealed Wednesday to faith-based groups to help garner support for his plan to overhaul the nation's health care system.
CNN: White House may push through health care without Republicans
The Obama administration is looking hard at pushing through a health care reform bill without Republican backing, top Democrats close to the White House have told CNN.
CNN: Grassley insists he's still looking to make a health care deal
Iowa Sen. Chuck Grassley, the ranking Republican on the Senate Finance Committee, dismissed Democratic criticism Wednesday that it increasingly appears he doesn't want any health care deal at all — a key point Democrats have been making to justify the possibility of going it alone, without GOP votes.
CNN: New White House tactic to bring GOP back to health debate?
In the chess game over health care reform, the White House's last move was to say Democrats might use a procedural move to get a bill through without working with Republicans.
CNN: Palin reveals receiving range of gifts
As Alaska governor, Sarah Palin last year received a wide variety of unique gifts, according to a supplemental disclosure form submitted to the state government. They included a gun case embroidered with "Sarah" on it sent from Tennessee; a piece of glass elephant jewelry from a California woman, an embroidered cross-stitched blanket entitled "The Special Child" from a Texas woman; and a hand-painted plate with Palin's picture on from a stoneware studio in Kansas.
CNN: Polls: Obama approval rating stands at 51 percent
Three new national polls released over the past 24 hours indicate that just over half of all Americans approve of how President Obama's handling his job.