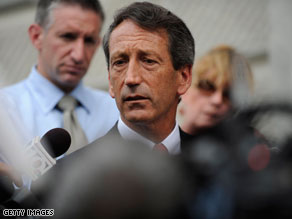 Sanford admitted to an affair with an Argentine woman in June.
(CNN) - South Carolina's Republican Attorney General Henry McMaster officially announced his intention to run for governor on Monday - and he did so with a not-so-subtle swipe at the state's current scandal-tainted governor, Mark Sanford.
"Taxpayers no longer trust their government," McMaster said in a web video announcing his candidacy. "There's been too much dishonesty and too many scandals. Not long ago, South Carolina was a leader in creating new jobs. I know we can do it again."
McMaster also uses the video to blame President Obama – but not Sanford - for the 39,000 jobs that have been lost in South Carolina since his inauguration.
"What we need now is new leadership to pull us together," he said. "That's why I'm running for governor. And I ask you to stand with me."

McMaster's jab is notable because the rest of the Republican candidates for governor – not wanting to be weighed down by the Sanford saga - have so far tread lightly when handling questions about the governor. Also running on the GOP side are Rep. Gresham Barrett, state Rep. Nikki Haley, state Sen. Larry Grooms. Andre Bauer, the state's Lt. Gov., is also mulling a bid.
Sanford and McMaster were elected separately and aren't considered close political allies, but the two men have had a cordial professional relationship during their two terms in office. After Sanford admitted to an affair with an Argentine woman in June - a disclosure that led to subsequent revelations about his use of state finances – McMaster asked for investigations into the governor's use of public resources.
Democrats running for governor include state Sen. Vincent Sheheen, state Sen. Robert Ford, attorney Dwight Drake, and attorney Mullins McLeod. State Superintendent of Education Jim Rex is expected to jump in the race but has not officially announced.
UPDATE: Both Barrett and Grooms have publicly called on Sanford to resign.