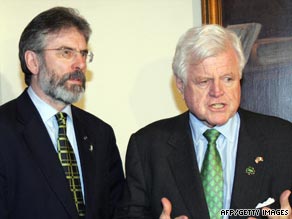 Senator Edward Kennedy, right, pictured with Northern Irish politician Gerry Adams in 1996.
LONDON, England (CNN) - Worldwide tributes for U.S. Senator Edward Kennedy, who has died after a long battle with brain cancer, poured in Wednesday, led by politicians hailing his role in securing a lasting peace in Northern Ireland.
Former British Prime Minister Tony Blair, whose administration presided over the 1998 Good Friday Agreement which led to an end to decades of sectarian violence in the province and established a united ruling Assembly, praised Kennedy's commitment to the process.
"I saw his focus and determination first hand in Northern Ireland where his passionate commitment was matched with a practical understanding of what needed to be done to bring about peace and to sustain it," Blair said.