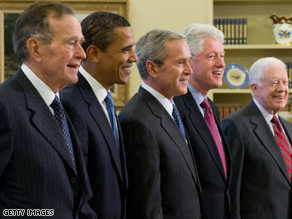 Former President George H.W. Bush notified Ted Kennedy's family that he will not attend Saturday's funeral service.
(CNN) - Former President George H.W. Bush will not attend Ted Kennedy's private funeral mass in Boston on Saturday, his spokesman Jim McGrath told CNN.
McGrath said the 41st president spoke to Kennedy's wife Vicki and his niece Caroline to let them know. Earlier reports had said that all four living presidents would attend the service.
Former presidents Jimmy Carter, Bill Clinton and George W. Bush are still scheduled to attend.