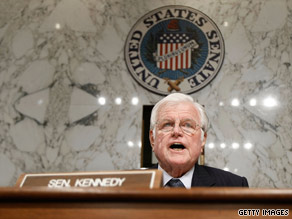 WASHINGTON (CNN) - Filling Edward "Ted" Kennedy's shoes in the Senate will be nearly impossible as Congress tackles health care reform legislation - an issue close to Kennedy's heart.
Kennedy, who passed away Tuesday, was a fixture in the Senate for nearly 50 years. Deemed the "Lion of the Senate," his larger-than-life presence not only resonated in the halls of Congress and in Massachusetts, but around the world.
That clout and popularity extended across party lines during negotiations on major issues. A self-described liberal, he was known for having a knack for bridging the divide between left and right.
"He was a rare politician who knew when to cut a deal. He knew when to compromise. He knew how to work with George Bush," said Gloria Borger, CNN senior political analyst.
"He understood the power of personal relationships," she said.
But deals are few in the 111th Congress, which has seen strict party-line votes this year on major domestic legislation, including the economic stimulus plan and the 2010 budget.
With Kennedy's death, a power vacuum has developed in the Senate.
"I think one of the things that the Senate now lacks is just that power ... somebody that people would coalesce around," said Candy Crowley, CNN senior political correspondent. "I just don't see anyone there right now that can step up to that plate."