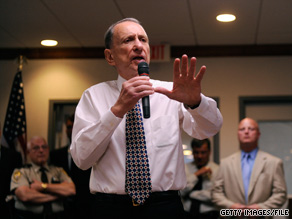 The FEC said Thursday that the Club for Growth can contact Sen. Arlen Specter's donors about their ability to ask for a refund of their political contributions.
WASHINGTON (CNN) – The Federal Election Commissions said Thursday that the Club for Growth - a group that advocates fiscally conservative policies - may use information in Pennsylvania Sen. Arlen Specter's campaign finance reports in order to inform Specter's donors that the longtime senator is no longer a Republican and has switched his party affiliation to Democrat as he seeks to retain his seat in 2010.
When Specter announced his party switch in late April, he also announced that he would refund any contribution given during the current election cycle by donors who wanted their money returned.
The Club for Growth, which was once run by Pennsylvania Republican Senate candidate Pat Toomey, asked the FEC for permission to access Specter's campaign finance reports in order to identify Specter donors entitled to a refund and to inform them of their ability to seek a refund if they desire to do so.
In a decision rendered Thursday, the FEC granted the group access to Specter's FEC reports under a number of conditions, including that the group not use the Specter donor information to solicit contributions or for any commercial purpose.
Pennsylvania Rep. Joe Sestak recently announced that he will challenge Specter for the Democratic senate nomination. The winner of that primary will face off against Toomey in the general election in 2010.
In its second quarter campaign finance report, the Specter campaign reported returning $225,000 to Republican donors.