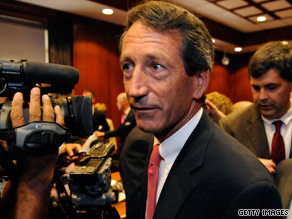 Joel Sawyer, Mark Sanford's former spokesman, is seen here behind the governor in June.
(CNN) - Mark Sanford's former communications director Joel Sawyer - who resigned in July in the weeks after the South Carolina governor admitted to an extramarital affair - announced the formation of a new communications consulting firm on Thursday.
Sawyer said his firm - New Level Strategies - will offer public relations advice, message development and crisis communications consulting to companies and Republican political clients.
After Sanford mysteriously disappeared from Columbia in June, Sawyer famously told reporters that his then-boss had gone hiking on the Appalachian Trail to clear his mind after a bruising legislative session. Sanford was actually visiting his mistress in Argentina. The governor later admitted that he misled his staff, including Sawyer, about his whereabouts.