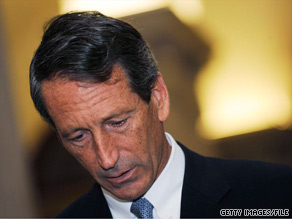 Sanford fought back against one of his critics on Thursday.
(CNN) - South Carolina Gov. Mark Sanford, taking the offensive for one of the first times since admitting an extramarital affair in June, staged a press conference Thursday across the street from the office of a state senator who is investigating his travel expenses and accused his critic of "selective outrage."
Sanford said state Sen. David Thomas, a fellow Republican, is using the travel probe to raise his profile in advance of a 2010 congressional run and claimed he isn't running "a serious investigation."
"If there was a serious investigation going on, what he would have discovered was that over the last 25 years, there have been a full 230 business class tickets purchased by the Department of Commerce or by difference state entities," Sanford said.
Thomas - who chairs the senate subcommittee charged with investigating constitutional and administrative questions related to the governor's office - has been looking into Sanford's travel records since June, when the governor admitted he left the state to visit his mistress in Argentina.
He has accused Sanford of violating South Carolina law by booking first-class and business class seats on overseas trips and said the governor needs to be impeached. Thomas said state regulations require that officials purchase the cheapest available seats.
But Sanford sought to cast doubt on the senator's motivations.
"This idea of running for Congress and building up a name ID in this fashion is no way to run for Congress," he said. Thomas is mounting a primary challenge against Rep. Bob Inglis in South Carolina's 4th Congressional District.
The governor accused Thomas of hypocrisy, claiming that members of the senator's own subcommittee have flown business class on the taxpayer dime.
"There is something wrong with selective outrage," Sanford said of the investigation.
Top Republican leaders in state, including Senate Pro Tempore Glenn McConnell and House speaker Bobby Harrell - have distanced themselves from the probe, saying instead that the state's Ethics Commission should take the lead on looking into the governor's actions.
Sanford did not take questions from reporters and did not comment on other investigations conducted by the media that showed he used state aircraft for political and personal use, and failed to officially report flights provided to him by friends and political allies.
The press conference occurred one day after Sanford rejected a call from his lieutenant governor to step down, and one day before House Republicans gather in Myrtle Beach for their annual retreat, where the question of impeachment is certain to be a hot topic among members, who have not been together since the scandal broke earlier this summer.
The impeachment process in South Carolina must begin in the House, and multiple GOP legislators in both parties have told CNN they support introducing a motion to impeach the governor. However, no action can formally be taken until the legislative session begins in January.
House Majority Leader Kenny Bingham told CNN it's difficult to know how House Republicans will proceed until all the facts about Sanford are known.
"I believe that a majority of the House Republicans are very, very, very concerned," he said. "This is a gray area where we're at today. I don't think it's over the top, and every one supports impeaching the governor, but at the same time, we can't just dismiss it."