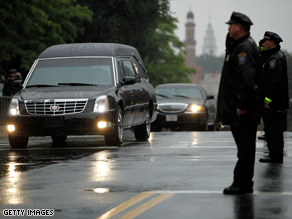 Crowds lined the street as the motorcade carrying the body of Sen. Ted Kennedy passed by.
BOSTON, Massachusetts (CNN) - As the funeral service for Sen. Ted Kennedy begins, people are lining the streets around Boston's Our Lady of Perpetual Help Basilica.
The local bars and restaurants are also packed with people watching the live coverage on televisions inside.
The crowd is flowing out the door at "Flann's", a corner pub on Tremont Street about three blocks from the church, just outside the security perimeter.