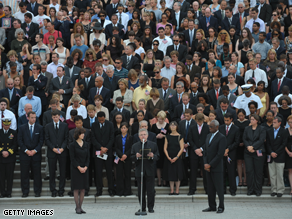 Friends and former staff members gathered on the steps of the Capitol building.
(CNN) - Hundreds of people - mostly congressional staffers and lawmakers - gathered Saturday evening on the steps of the U.S. Capitol ahead of the arrival of a hearse carrying Sen. Edward M. Kennedy's body.
The staffers - current and former - as well as many prominent U.S. senators and representatives, stood on the steps awaiting the casket's arrival. Some held American flags in their hands and others held framed photos of Kennedy.
Crowds of tourists and other onlookers congregated on the lawn and street in front of the Capitol.
The group was expected to sing "America the Beautiful" when the funeral procession arrives. The Rev. Daniel Coughlin - chaplain of the House of Representatives - is expected to give a prayer when the hearse stops.
After leaving the Capitol, the casket is to proceed to Arlington National Cemetery, where Kennedy will be buried, 95 feet south of the grave of his brother Sen. Robert Kennedy, which is in turn just steps away from the burial site of his brother, former President John F. Kennedy.