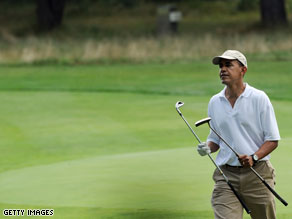 President Obama has spent much of his vacation on the golf course.
(CNN) - With the first week of his vacation marred by the death of his party's most revered senator, President Obama on Monday began his final week of vacation with a return to the golf course.
Obama teed off three times last week in Martha's Vineyard.
The president is teeing off this afternoon with U.S. Trade Representative Ron Kirk, White House Press Assistant Ben Finkenbinder and White House Aide Marvin Nicholson at Army-Navy Country Club in Arlington, Virginia.
Finkenbinder and Nicholson both hit the links with Obama last week as well.