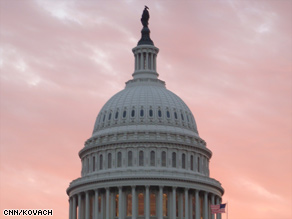 The CNN Washington Bureau's morning speed read of the top stories making news from around the country and the world.
WASHINGTON/POLITICAL
For the latest political news: www.CNNPolitics.com.
CNN: As Kennedy laid to rest, a papal prayer request is revealed
Shortly before his death, Sen. Edward M. Kennedy wrote a letter to Pope Benedict XVI asking for the pontiff to pray for him as he struggled with an aggressive form of brain cancer, it was revealed at his graveside service Saturday evening.
CNN: Kennedy's gravesite opens to the public
The Arlington National Cemetery gravesite of Sen. Edward M. Kennedy opened to the public at 8 a.m. Sunday, a little less than 12 hours after he was buried.
CNN: Cheney: Justice review of interrogation methods is political
Former Vice President Dick Cheney said in an interview broadcast Sunday that the Justice Department's decision to review waterboarding and other enhanced interrogation techniques is politically motivated.
CNN: Analysis: Dick Cheney's claims reopen 'waterboarding' debate
Former Vice President Dick Cheney on Sunday said his claim that enhanced interrogation techniques - including waterboarding - produced critical post-9/11 information was supported by a pair of intelligence reports released last week.
CNN: Dem on CIA probe: 'No one is above the law'
A week before Congress returns from its August recess, there are already signs that a recently announced Justice Department investigation into the CIA's harsh interrogation techniques of terrorism suspects will be a source of tension between Democrats and Republicans on Capitol Hill.
CNN: Tea Party Express cruises through Nevada
Hundreds of people turned out for a series of weekend events as the Tea Party Express cruised across northern Nevada.
CNN: 'I would tend not to' support the public option, says Landrieu
A moderate Senate Democrat who is a possible swing vote in Republicans' favor on health care reform said Sunday she is not likely to support a robust public health insurance option and believes that reform proposals should focus on lowering health care costs.
CNN: Kennedy 'expected more of us' on health care, Dodd says
A close personal friend of the late Sen. Ted Kennedy said Sunday that the Massachusetts lawmaker's death ought to act as an inspiration for Democrats and the entire Senate to set aside partisan differences and pass health care legislation.
CNN: Public option not likely to pass in the Senate, Hatch says
Just two days after sharing his fond memories of longtime friend and Senate colleague Ted Kennedy, Republican Orrin Hatch said Sunday that one of the main provisions of a Democratic plan for health care reform – a public policy initiative that Kennedy had referred to as the "cause of my life" – stood little chance of passing in the Senate.
CNN: GOP senator blasts Dems health care proposals
Bipartisan support may have faded further from reality Saturday when the ranking member of the Senate Health Committee condemned Democratic health care proposals which he said would "make our nation's finances sicker."
New York Times: As Big Banks Repay Bailout Money, U.S. Sees a Profit
Nearly a year after the federal rescue of the nation's biggest banks, taxpayers have begun seeing profits from the hundreds of billions of dollars in aid that many critics thought might never be seen again.
New York Times: Fighting Health Care Overhaul, and Proud of It
Senator Jim DeMint, the South Carolina Republican who predicted that President Obama's effort to overhaul the health care system would become his "Waterloo," is doing his best to make that happen.
Washington Post: Environmentalists Slow to Adjust in Climate Debate
The oil lobby was sponsoring rallies with free lunches, free concerts and speeches warning that a climate-change bill could ravage the U.S. economy.
Washington Post: U.S. Meetings With Lobbyists Go Unreported
President Obama ordered federal officials to disclose their contacts with lobbyists trying to influence how the government doles out money to jump-start the economy. Yet few such communications have been reported even though lobbyists say they are busier than ever with the multibillion-dollar stimulus.
Washington Post: Biden honored at Little League World Series
Vice President Joe Biden fondly recalled playing youth baseball in Pennsylvania while being honored at the Little League World Series.
USA TODAY: U.S. ramps up withdrawal from Iraq
The U.S. military is packing up to leave Iraq in what has been deemed the largest movement of manpower and equipment in modern military history — shipping out more than 1.5 million pieces of equipment from tanks to antennas along with a force the size of a small city.
Boston Globe: Senate field hinges on Kennedy decision
With Massachusetts having paid its final respects to Senator Edward M. Kennedy, the politics of succession begins in earnest this week – candidates will emerge, a race will take shape, and the Kennedy clan will have to reveal whether it wants to keep the seat in the family.
Wall Street Journal: Frank Said to Back Broader Fed Audits
Rep. Ron Paul said he has a commitment from the chairman of the House Financial Services Committee, Barney Frank, to advance the Texas Republican's legislation opening the Federal Reserve to broader federal audits.
NATIONAL
For the latest national news: www.CNN.com.
CNN: 2 firefighters killed battling blaze in Los Angeles County
Two firefighters died Sunday battling a wildfire in Los Angeles County, according to Deputy Fire Chief Michael Bryant.
CNN: E-mails show kidnap victim worked at suspect's business
Customers of the printing company knew her as "Allissa." They spoke to her about graphic design, business cards and fliers, and describe her as professional, polite and responsive.
CNN: Police: 'No known suspects' in 8 Georgia deaths
Authorities believe at least one person not in custody may have information about the deaths of eight people in a Georgia mobile home, Glynn County Police Chief Matt Doering said Sunday.
CNN: Missing boaters endured a 'survival test,' says rescued boater
Rescued after spending eight days lost at sea, Tressel Hawkins was happy to be back in Texas.
New York Times: Invisible Immigrants, Old and Left With 'Nobody to Talk To'
They gather five days a week at a mall called the Hub, sitting on concrete planters and sipping thermoses of chai. These elderly immigrants from India are members of an all-male group called The 100 Years Living Club. They talk about crime in nearby Oakland, the cheapest flights to Delhi and how to deal with recalcitrant daughters-in-law.
New York Times: Some Buildings Not Living Up to Green Label
The Federal Building in downtown Youngstown, Ohio, features an extensive use of natural light to illuminate offices and a white roof to reflect heat.
New York Times: Wolves Are Set to Become Fair Game in the West
A wolf hunt is set to begin in Idaho on Tuesday if a federal judge does not stop it. It would be the first time in decades that hunters have been allowed to pursue the gray wolf, an animal that has come to symbolize tensions over how people interact with wilderness in the West.
INTERNATIONAL
For the latest international news: http://edition.cnn.com/

CNN: Hurricane Jimena takes aim at Baja California
Packing winds of 140 mph, Hurricane Jimena was approaching Baja California on Sunday as a Category 4 storm, forecasters said.
CNN: Officials: Voter fraud complaints double in Afghan election
The number of voter fraud complaints in the Afghan vote more than doubled Sunday, with election officials saying they have now deemed 567 of them serious enough to affect the outcome of last week's race.
CNN: Japanese opposition set for victory; PM quits as party head
Japanese Prime Minister Taro Aso announced his resignation as head of the party that has governed Japan for decades following its apparent landslide defeat in elections Sunday.
CNN: In China, a U.S. adopted teen finds his roots
His father and uncle fall to the ground, crying uncontrollably. After 11 years of not knowing, relief of finding a child they thought had been lost forever pours out of them.
CNN: Iranian media: Officials to investigate claims of secret burials
City officials in Tehran have agreed to investigate claims that bodies of protesters killed in the unrest that followed Iran's disputed presidential election were secretly buried in the nation's largest cemetery, Iranian media reported Sunday.
CNN: UK minister denies secret deal on release of Lockerbie bomber
British Justice Minister Jack Straw denied Sunday that the Lockerbie bomber was freed from jail as part of an agreement to allow a British energy company to drill for oil in Libya.
CNN: India loses radio contact with moon orbiter
Indian space scientists were scrambling Sunday to regain contact with their unmanned moon mission a day after they abruptly lost contact with the orbiter
New York Times: Increasing Accounts of Fraud Cloud Afghan Vote
A Kabul teacher assigned to run a polling station in this village arrived at 6 a.m. on Election Day to find the ballot boxes already full, well before the voting was to start. When he protested, the other election officials told him to let it go; when he refused, he was taken away by the local tribal chieftain's bodyguards.
Washington Post: Many Women Stayed Away From the Polls In Afghanistan
Five years ago, with the country at peace, traditional taboos easing and Western donors pushing for women to participate in democracy, millions of Afghan women eagerly registered and then voted for a presidential candidate. In a few districts, female turnout was even higher than male turnout.
BUSINESS
For the latest business news: www.CNNMoney.com.
CNNMoney: Stocks brace for September
With stocks now sitting more than 50% above March lows and notorious rally-spoiler September in sight, the calls for a pullback have been getting louder.
CNNMoney: Clunkers: Good for Detroit, better for Japan
While Detroit has benefited from Cash for Clunkers, foreign automakers have gained even more.
New York Times: Still in Development: A Film Culture in Dubai
When the heiress Paris Hilton traveled here in June and July to audition female friends for her show "My New BFF," her producers had access to state-of-the-art studios and a government eager to import a touch of Hollywood glamour to the Middle East.
In Case You Missed It
To watch the latest interviews and reporting: http://www.cnn.com/video.
CNN: Philanthropy in tough times
CNN's Dr. Sanjay Gupta asks Nike's Mark Parker how the tough economy has affected his charity work.
Subscribe to the CNN=Politics DAILY podcast at http://www.cnn.com/politicalpodcast.
And now stay posted on the latest from the campaign trail by downloading the CNN=Politics SCREENSAVER at http://www.CNN.com/situationroom.