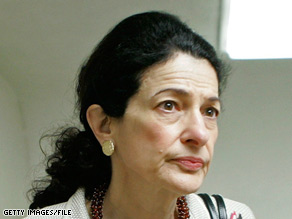 Sen. Olympia Snowe is an influential Republican on the Senate Finance Committee.
WASHINGTON (CNN) - Republican Sen. Olympia Snowe has shown throughout her career that when it comes to voting, it's her principles and constituents that guide her, not her party.
Those principles, analysts note, are guiding her to find a compromise on health care reform currently stalemated in Congress.
Jennifer Duffy, who follows the Senate for the Cook Political Report, said Snowe's independent streak is "not new behavior for her."
"I think they [Republicans] also realize that the only reason that the state of Maine has two Republican senators at all is the fact that they are very independent-minded and they vote their state," she said, referring to Snowe and Sen. Susan Collins.
In fact, some estimates place Snowe as having voted with her party only 57 percent of the time in the current Congress.
While her moderate views are at odds with GOP opposition to several of President Obama's economic plans this year, the senator's constituents seem to agree with her.
In 2006, she won re-election with 74 percent of the vote, compared to her Democratic opponent's 21 percent. In 2000, Snowe received 69 percent of the vote.
Follow Ed Hornick on Twitter @HornickCNN