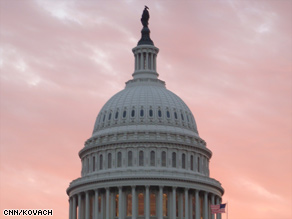 The CNN Washington Bureau's morning speed read of the top stories making news from around the country and the world.
WASHINGTON/POLITICAL
For the latest political news: www.CNNPolitics.com.
CNN: Sen. Snowe not afraid to buck her party
Republican Sen. Olympia Snowe has shown throughout her career that when it comes to voting, it's her principles and constituents that guide her, not her party.
CNN: President to focus on health care specifics, Biden says
Vice President Joe Biden promised Thursday that President Obama will delve into specifics when he tackles health-care reform in a highly anticipated speech to a joint session of Congress next week.
CNN: Obama's health care message hard to control online
Sometimes it seems like Barack Obama rules the Internet. The president's Twitter feed is hugely popular, with more than 2 million followers. Funny White House photos of the first family wearing 3-D glasses went viral after the White House posted them to Flickr.
CNN: Sanford accused of smear campaign against Bauer
An outspoken critic of Mark Sanford is accusing the embattled South Carolina governor of orchestrating a smear campaign against Lt. Gov. Andre Bauer.
CNN: Massachusetts attorney general formally enters Senate race
Massachusetts Attorney General Martha Coakley on Thursday formally announced her bid for the state's vacant Senate seat long held by the late Sen. Ted Kennedy.
CNN: Pawlenty back on the Trail
New Jersey Republican gubernatorial candidate Chris Christie gets a helping hand today from a high profile surrogate.
CNN: Man says he lost part of finger in fight at health-care rally
A man says part of one finger was bitten off in a confrontation that developed at a health-care rally Wednesday night in southern California.
CNN: Conservative group resumes health care ad campaign
A major player in the health care ad wars is back in the game after a recent suspension of its campaign in the wake of Sen. Ted Kennedy's death.
CNN: Dems go after GOP Senate candidates
Gearing up for the midterm elections — a cycle that generally favors the party out of power — the Democratic Senatorial Campaign Committee released another tough new Web ad Thursday that says the current slate of Senate GOP candidates "no dream team."
CNN: FreedomWorks, Tea Party Patriots head for the Hill
Members of Congress — returning to work after a chaotic August recess — may be welcoming a return to their D.C. offices and a schedule free of visits to town halls, the district-level gatherings that have provided the stage for some of the summer's fiercest faceoffs. But their break is likely to be a short one: Next week, a flood of those town hall protesters are planning to head to the Hill.
CNN: Biden credits stimulus plan with sparking economic recovery
Vice President Joe Biden trumpeted the role of the administration's $787 billion stimulus package Thursday in sparking an economic recovery.
CNN Poll: Americans say country still in recession
Nearly nine in ten Americans say the country's still in a recession, according to a new national poll.
New York Times: Advisers to Obama Divided on Size of Afghan Force
The military's anticipated request for more troops to combat the insurgency in Afghanistan has divided senior advisers to President Obama as they try to determine the proper size and mission of the American effort there, officials said Thursday.
Wall Street Journal: Obama Urged to Rally Support for War
The White House is facing mounting pressure from lawmakers to work harder to rally flagging public support for the war in Afghanistan.
Washington Post: The Unwitting Birthplace of the 'Death Panel' Myth
This city often shows up on "best places to live" lists, but residents say it is also a good place to die - which is how it landed in the center of a controversy that almost derailed health-care reform this summer.
Washington Post: A GOP Senator Looking to Meet Halfway
Republican Sen. Bob Corker stood before a packed high school auditorium this week for his 24th and final town hall meeting of the summer, sketching out his vision for the bipartisan health-care plan he says he is convinced Congress can pass.
Washington Post: Justices Discuss A Changing Court
How seriously do they take change over at the Supreme Court? Very seriously.
USA TODAY: White House to reveal visitor names
The Obama administration plans to change White House policy by releasing the names of thousands of visitors whose comings and goings traditionally are kept secret by presidents.
McClatchy: Clyburn: 'half a loaf' on health care better than nothing
House Majority Whip Jim Clyburn is pushing a compromise on the most contentious part of President Barack Obama's bid to provide medical benefits to uninsured Americans.
Washington Times: CIA asks Justice to probe leaks of secrets
Besieged by leaks of several closely held secrets, the CIA has asked the Justice Department to examine what it regards as the criminal disclosure of a secret program to kill foreign terrorist leaders abroad, The Washington Times has learned.
NATIONAL
For the latest national news: www.CNN.com.
CNN: Pentagon chiefs urge fast turnaround in Afghan war
The United States has a limited amount of time to show Afghans and Americans success in turning around a war in Afghanistan that is facing declining support, according to the top Pentagon leadership.
CNN: Dead stars and classic art will surround Michael Jackson
Seventy days after his sudden death, Michael Jackson will be interred in what may or may not be his final resting place Thursday evening.
CNN: Arson caused California blaze, officials say
A massive fire that has charred nearly 145,000 acres in Southern California and destroyed dozens of homes north of Los Angeles was caused by arson, a U.S. Forest Service spokeswoman said Thursday.
CNN: FAA orders airplane part replaced after Air France crash
The Federal Aviation Administration ordered U.S. airlines Thursday to replace a part that has come under suspicion in the crash of Air France Flight 447.
CNN: High praise for football player who disarmed girl with gun on bus
A Mississippi high school quarterback is being hailed as a hero for saving a school bus full of elementary and high school students from a gun-wielding girl.
CNN: Jaycee Dugard's aunt: 'This is a joyful time'
A California woman who turned up alive 18 years after being kidnapped at age 11 is reconnecting with her family after nearly two decades apart, her aunt said Thursday.
CNN: Pot farms run by 'bad guys' getting closer to tourist spots
Drug traffickers are planting millions of marijuana plants on U.S. public lands ever closer to tourist sites, guarding their plots with heavy weaponry, federal authorities say.
CNN: Parents of Christian convert deny threat allegations
The parents of an Ohio teenager who claims her father threatened to kill her because she converted from Islam to Christianity denied Thursday all allegations against them.
CNN: Wolf hunting now legal but still controversial
For the first time in decades, the hunting of the gray wolf is legal again in the United States. And that's a good thing for ranchers like Cindy Siddoway of Terreton, Idaho, whose sheep are threatened every day by wolves.
New York Times: Firefighters Become Medics to the Poor
Peeling off his latex gloves after treating a 4-year-old boy having a severe asthma attack, J. R. Muyleart sighed with a touch of frustration. It was 3 a.m. and in the past 24-hour shift, Mr. Muyleart, a firefighter, had responded to at least one emergency call per hour.
Wall Street Journal: How Team of Geeks Cracked Spy Trade
From a Silicon Valley office strewn with bean-bag chairs, a group of twenty-something software engineers is building an unlikely following of terrorist hunters at U.S. spy agencies.
Los Angeles Times: Lawmakers pass bill to honor Harvey Milk
California lawmakers today passed a measure calling for a special day of recognition for Harvey Milk, the state's first openly gay elected leader who was assassinated by a political rival in 1978.
INTERNATIONAL
For the latest international news: http://edition.cnn.com/
CNN: N. Korea 'in final uranium enrichment stage'
North Korea's state-run news agency said Thursday that the country has sent a letter to the United Nations announcing that "reprocessing of spent fuel rods is at its final phase and extracted plutonium is being weaponized."
CNN: Iran appoints first woman minister and a terrorist suspect
Iran's parliament on Thursday approved the Cabinet nominations of a suspected terrorist and the first woman minister in the Islamic republic's 30-year history.
CNN: NATO airstrike kills or wounds 90
A NATO airstrike on a pair of stolen fuel trucks in northern Afghanistan early Friday killed or injured 90 people - a mix of Taliban militants and civilians, a provincial government official said.
CNN: State Dept. officials: U.S. halting more aid to Honduras
The United States is terminating all non-humanitarian aid to the de facto Honduran government to pressure it to return its ousted president to power, the State Department announced Thursday.
CNN: Warmest Arctic temperatures for 2,000 years, says new study
Arctic temperatures in the 1990s reached their warmest level of any decade in at least 2,000 years, new research indicates.
CNN: Documentary filmmaker shot dead in El Salvador
A French filmmaker who recently finished a documentary about a violent street gang in El Salvador was found shot dead in the town of Tonacatepeque, about 10 miles northeast of the capital city of San Salvador, authorities said.
CNN: China: Demonstrators demand security after needle attacks
Thousands of Chinese demonstrators crowded the streets of Urumqi in western China on Thursday to protest what they say is a lack of police protection, witnesses said.
CNN: Dozen bombings in Iraq kill at least 6, wound 85
Bombings rocked Iraq on Thursday, killing at least six people and wounding at least another 85, an Iraqi official told CNN.
CNN: 'Airplane view' of Mars yields stunning images
What would you see if you could fly over Mars in a plane and look out the window?
New York Times: Korea Investigates Atrocities in Race Against Time
On a heavily forested hilltop behind this village, investigators are excavating the long-buried history of the South Korean men, women and children who cowered in a trench as their own country's troops mowed them down during the Korean War.
New York Times: China Fails to Prevent Myanmar's Ethnic Clashes
China is Myanmar's closest ally — almost its only one. It is Myanmar's chief defender in international forums, its major weapons supplier, its largest foreign investor and a crucial backer of its ruling military junta.
Washington Post: Iranian Blogger Does About-Face
The headline on the last blog item that former Iranian vice president Mohammad Ali Abtahi published before his June 15 arrest - "It was a huge swindling" - left no doubt that he believed that his country's presidential election had been stolen.
BUSINESS
For the latest business news: www.CNNMoney.com.
CNNMoney: Saving homeowners – 1 at a time
Whenever Alice Steinhardt walks into her office, her phone's message light is red.
CNNMoney: Clunkers payments get green light
The government said Thursday it has so far approved $500 million to reimburse auto dealers for cars sold under the Cash for Clunkers program, and will refund all eligible dealer requests in the nearly $3 billion program by the end of the month.
USA TODAY: For parents, psychology is key in back-to-school shopping
Amy Koile loves back-to-school shopping for her kids, especially her 9-year-old daughter.
In Case You Missed It
To watch the latest interviews and reporting: http://www.cnn.com/video.
CNN: Frog in a Pepsi can
Hala Gorani and Nicole Lapin discuss the FDA finding residue of a frog or toad in a Pepsi can.
Subscribe to the CNN=Politics DAILY podcast at http://www.cnn.com/politicalpodcast.
And now stay posted on the latest from the campaign trail by downloading the CNN=Politics SCREENSAVER at http://www.CNN.com/situationroom.