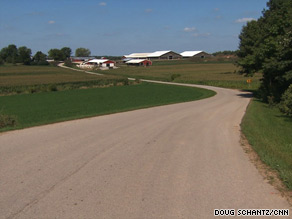 Farmers like Bob Topel have relied on co-ops for years to buy feed, seed, fuel and fertilizer.
Editor's note: On CNN's "State of the Union," host and Chief National Correspondent John King goes outside the Beltway to report on the issues affecting communities across the country.

WATERLOO, Wisconsin (CNN) - On a dairy farm that Bob Topel likes to describe as "25 miles from anywhere," the term co-op is old hat.
"Co-ops have been around for well over 100 years in agriculture," Topel said while milking, feeding and other chores on his 660-acre farm.
"Here on our farm we buy everything - from seed, fuel, fertilizer, feed - everything we buy is pretty much through a cooperative." He sells his milk through a local cooperative, too.
And, for the past 10 months, Topel and his wife also get their health care through a cooperative, one he holds out as a model as Congress and the White House debate health care reform and specifically whether a robust, government-run health care option is necessary to provide competition with private insurers.