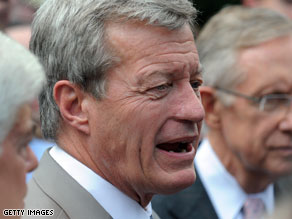 Baucus proposes dropping public option from health care bill.
WASHINGTON (CNN) - A proposed health-care compromise by the powerful chairman of the Senate Finance Committee lacks a government-run insurance option favored by Democrats and would tax the most expensive health insurance plans, a source close to the discussions told CNN Monday.
As expected, the proposal from Sen. Max Baucus, D-Montana, excludes the so-called public insurance option to compete with private insurers. However, it would allow for the creation of non-profit health care cooperatives - an idea that some moderate Democrats and Republicans have expressed possible interest in supporting.
The potential compromise proposal was sent to key Finance Committee negotiators Saturday night. It is considered a last-ditch effort to secure Republican votes for a health-care bill as President Barack Obama pushes the issue with a planned speech to a joint session of Congress on Wednesday night.