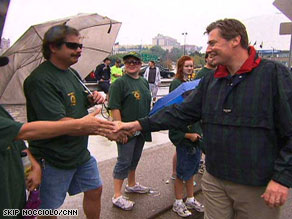 Altmire held one town hall with more than 1,000 attendees, as well as three telephone town halls, according to his office.
(CNN) - Democratic Reps. Jason Altmire and Joe Sestak, both second-term congressmen who marched in Monday's Allegheny County Labor Day parade in Pittsburgh, represent districts on opposite ends of the state. Also miles apart: their views on the best way to approach health care reform.
Hours away from Washington, the fight over the nation's health care system - and questions over what President Obama should say this week - took center stage at the Monday parade in Pittsburgh. Some union members marched with signs calling for health care reform. Others carried signs pushing a government-run system.
Altmire, a member of the fiscally conservative Blue Dogs, is emphasizing cost containment and does not want to see any tax increases to help pay for reform - a concern that led to his vote against the Democratic bill in the Health, Education and Labor committee.
"I don't want to do that on the tax side. I don't want to have to raise taxes to do health care reform. If the Senate sends us a bill with that, we will have to cross that bridge when we come to it," Altmire tells CNN. He says he might consider supporting a proposed government insurance plan - a so-called "public option" - as long as it doesn't unfairly undercut private insurance companies.

For Sestak, the public option is a priority: Any major reform, he says, must include a strong insurance plan sponsored by the government.
"Unless we have the public option as a fair competitor, we won't begin to bring down the costs of our premimums and our deductibles. It is absolutely a necessity for our economy," Sestak says.
Sestak - who is challenging Republican-turned Democratic Sen. Arlen Specter for their party's 2010 Senate nomination - opposes any "trigger" mechanism that would delay enactment of a government plan depending until several years down the road depending on whether insurance companies bring down their costs, Altmire is open to that idea.
August may have marked the congressional recess, but it was anything but a break for the two congressmen.
Altmire held one town hall with more than 1,000 attendees, as well as three telephone town halls, according to his office.
"I would not say anything that happened shocked or surprised me," he says. "I know there is a lot of concern out there about the role of government in general and certainly health care which is the most personal of issues. People are going to have a concern - especially those who have insurance now. 'How is this going to impact me?' And that is what I heard.
"Now we have 435 members returning to Washington. We have all had a similar experience in our districts, and and we have to incorporate the views of the American people into the health care bill," Altmire says.
Sestak hosted over 400 people Friday night at his ninth town hall since August. As one audience member shouted there are "multiple interpretations of this horrific government takeover," the congressman tried to reassure them. The current Democratic bill, with a public insurance plan, is key, he said. "It insures that if you have health care today you should be for this bill because you may not be able to afford it tomorrow unless we discipline the costs," he told the crowd in Drexel Hill, Pennsylvania.
While Sestak says this is the time to push through comprehensive reform, Altmire leaves the door open to supporting a less ambitious bill that would incorporate more modest changes. Those would include popular measures such as provisions banning insurance companies from denying coverage to those with pre-existing conditions, forbidding them from dropping sick persons, and helping small businesses pool their employees to help ensure they can purchase affordable coverage.
One thing both men agree on: For a bill to get through Congress, they say, the president must be fully engaged.
"We need that from him," Sestak says. "I would have liked to have seen him earlier into the fray."
Altmire concurred. "The president has to lay out for the American people what his goals are for health care reform - what he is willing to compromise on and what his lines in the sand are," he says.