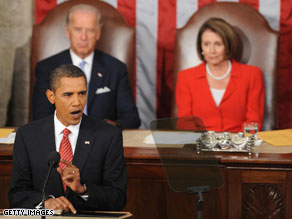 WASHINGTON (CNN) - President Barack Obama on Wednesday promised that any health-care bill approved by Congress won't increase the federal deficit.
In a joint speech to Congress, Obama repeated past statements that savings in the existing health-care system would cover most of the cost of an overhaul bill.
He also sought to ensure the elderly that cutting costs and finding savings in the Medicare program for senior citizens won't diminish the level of service currently provided. In particular, he said that "not a dollar of the Medicare trust fund" would pay for the bill.
However, Obama provided few details of how that would happen, saying the plan would eliminate "unwarranted subsidies in Medicare that go to insurance companies" and create an independent commission of doctors and medicalexperts
to identify further waste.

"These steps will ensure that you – America's seniors – get the benefits you've been promised," Obama said. "They will ensure that Medicare is there for future generations."
He urged the elderly to ignore what he called "scary stories about how your benefits will be cut - especially since some of the same folks who are spreading these tall tales have fought against Medicare in the past."