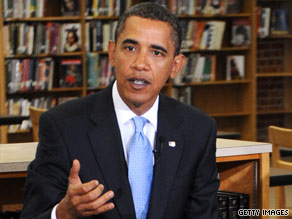 President Obama will lay out health care reform specifics in a speech before Congress on Wednesday
WASHINGTON (CNN) - After months of criticism that he has failed to outline a specific health care reform plan, President Obama will address a joint session of Congress on Wednesday night in a speech aides say will be to the point.
At stake for the president: getting Democratic factions on board with his plan and convincing Americans of the need for health care reform.
CNN Senior Political Analyst Gloria Borger said Obama will likely take on a tone seen during the 2008 campaign.
"He's going into full campaign mode" with this speech, said Gloria Borger, CNN senior political analyst.
Some have even deemed it one of the key legislative speeches of his presidency to date.
"Wednesday night's health care speech may be one of the toughest he has faced," said CNN contributor David Gergen.
Obama, for the most part, has issued broad reform ideas, but he has left most of the specific legislative details to leaders in Congress, who have faced sometimes contentious negotiations.
GOP strategist and CNN contributor Ed Rollins said that Obama must be "clear and very honest" with Americans on the specifics.