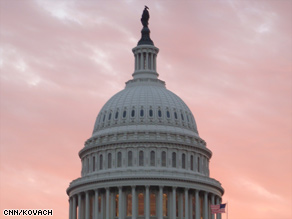 The CNN Washington Bureau's morning speed read of the top stories making news from around the country and the world.
WASHINGTON/POLITICAL
For the latest political news: www.CNNPolitics.com.
CNN: Obama about to pull the 'trigger' on health care?
President Obama's speech to Congress Wednesday on health care reform will probably be one of the high-noon moments of his presidency.
CNN: Top Democrats differ on backing off health care public option
A top House Democrat said Tuesday he could vote for a health-care bill that lacks a government-funded public insurance option, signaling movement toward a compromise as Congress returned from an August recess dominated by the issue.
CNN: Grassley planning counter offer
A source close to Republican Sen. Charles Grassley tells CNN he intends to offer counter proposals to Sen. Max Baucus tomorrow morning, as the Senate Finance Committee chair requested.
CNN: Hoyer: A bill can pass the House without a public option
House Majority Leader Steny Hoyer told reporters Tuesday a health care bill could pass the House without a public health insurance option. That assessment from the number two Democrat breaks with Speaker Nancy Pelosi, who just last week insisted that "a bill without a strong public option will not pass the House."
CNNMoney: Health care lobbying: Political power machine
The fight over health care overhaul is on track to be the most expensive issue ever to hit the hallways of Congress.
CNN: Blue Dog will vote against bill with public option
A key member of a group of conservative House Democrats announced Tuesday that he will vote against a health care bill if it includes a government-run insurance option.
CNN: HCAN targets Snowe, Collins ahead of Obama speech
As President Obama prepares to deliver his health care message to the American people Wednesday night, the umbrella group Health Care for America Now and union allies launched a weeklong media and grassroots campaign in Maine to pressure the state's GOP senators to back a public health insurance option.
CNN: Senate bill would strengthen security against biological attacks
Heeding warnings from a congressionally mandated commission, two U.S. senators introduced a wide-ranging bill Tuesday to address the threat of a biological attack on the U.S. homeland.
CNN: Win a dinner with Palin
If you've ever wanted to eat dinner with Sarah Palin, now's your chance.
CNN: Sotomayor welcomed to the bench by new colleagues
Justice Sonia Sotomayor was welcomed to the Supreme Court by her new colleagues in a brief special ceremony Tuesday in the ornate courtroom.
CNN: Commentary: Obama on risky ground on schools
President Obama has made it clear from the earliest days of his presidency that he intended to make education a high priority for his administration.
CNN: Can Obama overcome three big challenges on Wednesday night?
In his fiery speech over Labor Day to the AFL-CIO, President Obama signaled that he intends to seize the offensive on health care this Wednesday night as he addresses a joint session of Congress. His supporters believe that it is none too soon and hope that his appearance will be a game-changer.
CNN: Pawlenty to campaign in Virginia on Wednesday
Minnesota Gov. Tim Pawlenty's political road show continues on Wednesday, when the potential 2012 presidential candidate travels to Virginia to campaign for Republican gubernatorial candidate Bob McDonnell.
CNN: Clinton's advice to Obama: Forget about Republicans
As President Obama gets set to address a joint-session of Congress on the issue of health care reform Wednesday night, former President Clinton says it's time to forget about the Republican Party's role in the process entirely.
CNN: Bill designating 'Harvey Milk Day' draws fire
Amid conservative opposition, a bill that would designate a day of "significance" in California for slain gay politician Harvey Milk is heading to Gov. Arnold Schwarzenegger's desk.
CNN: S.C. House Speaker: Time for Sanford to go
After remaining relatively quiet on the matter for more than two months, South Carolina's Speaker of the House is now calling for Gov. Mark Sanford to resign.
CNN: Sanford: 'I'm not looking for a fight'
South Carolina Gov. Mark Sanford — facing a growing impeachment threat over his secret trip to Argentina in June — said Tuesday he's not preparing for a legal battle with state legislators who want to remove him from office.
CNN: Massachusetts bill on replacing Kennedy in Senate gets hearing
A public hearing is set for Wednesday afternoon in Boston, Massachusetts, on a bill that would allow Democratic Gov. Deval Patrick to appoint an interim replacement to the Senate seat of the late Ted Kennedy.
CNN: First on the Ticker: McCain told Schilling to run for Kennedy seat
When former Boston Red Sox ace Curt Schilling started making noise last week about pursuing Ted Kennedy's Senate seat, he said he had been contacted by several people about running — but he declined to say by whom.
New York Times: Despite Fears, Health Care Overhaul Is Moving Ahead
The conventional wisdom, here and around the country, is that the centerpiece of President Obama's domestic agenda — remaking the health care system to cut costs and cover the uninsured — is on life support and that only a political miracle could revive it.
New York Times: Palin Sides With Obama on Afghanistan
On at least one of his major policies, President Obama is getting support, and a nudge, from an unlikely quarter – Sarah Palin.
New York Times: Bristling at Health Plan to Cover Early Retirees
Within the battle over President Obama's health care overhaul, critics of organized labor have latched onto a little-noticed provision in the legislation already circulating in Congress. The provision would cost $10 billion in federal money to subsidize employer-sponsored health plans covering early retirees, as a bridge to Medicare.
Washington Post: In Illinois, a Similar Fight Tested a Future President
From a back-row seat in the Illinois Senate chamber, Barack Obama listened silently as political adversaries mocked his health-care reform bill: Socialized medicine. Hillarycare redux. Too expensive. Back-door route to a single-payer system.
Washington Post: U.S. 'Unlikely' to Recoup Auto Outlay, Panel Finds
The federal government is unlikely to recoup all of the billions of dollars that it has invested in General Motors and Chrysler, according to a new congressional oversight report assessing the automakers' rescue.
Christian Science Monitor: Obama faces a generation gap on healthcare reform
Part of the task facing President Obama in his push for healthcare reform is to bridge a generational divide.
NATIONAL
For the latest national news: www.CNN.com.
CNN: Sheriff: Bone fragment found near Garrido home 'probably human'
Bone fragment found near the California home where Jaycee Dugard is said to have been confined for 18 years is "probably human," a sheriff's spokesman said Tuesday.
CNN: Parents honor dead son's wish, wed at end of his funeral
Asa Hill was 7 years old when he died. Although the boy was pulled out of a burning car alive in a horrific accident on the Niagara Thruway on Thursday, his injuries proved critical, and he passed away the following night.
CNN: Georgia slaying victim had just won lawsuit
One of eight people killed in a southeast Georgia mobile home last month recently had been awarded $25,000 in a civil lawsuit, officials said.
CNN: Some travelers push the envelope on all-you-can-jet deal
Clark Dever and Joe Dinardo have always taken things to the extreme.
CNN: Airport screeners get kit to test for dangerous powders
The Transportation Security Administration is giving its airport checkpoint officers a new tool: a kit to test for explosive powders.
CNN: L.A. firefighters escape as truck sinks into hole
Los Angeles firefighters and city crews worked for several hours Tuesday to rescue one of their own: a 22-ton firetruck that was nearly swallowed by a water-logged sinkhole.
CNN: Commandos free abducted reporter in Afghanistan
A New York Times reporter who was kidnapped last week was freed by commandos Wednesday.
CNN: Reward for info on California wildfire raised to $150,000
A reward for information on who set a fatal wildfire that has been burning north of Los Angeles for almost two weeks has been raised to $150,000, officials said Tuesday.
New York Times: Pentagon Keeps Wary Watch as Troops Blog
Over the course of 10 months in eastern Afghanistan, an Army specialist nicknamed Mud Puppy maintained a blog irreverently chronicling life at the front, from the terror of roadside bombs to the tyrannies of master sergeants.
New York Times: Driver Texting Now an Issue in Back Seat
After decades of marriage, Terry and Debbie Buchen learned to work through various marital issues. Then something new came between them — his cellphone.
Washington Post: CDC Says Most Won't Need Drugs for Flu
With pandemic influenza cases on the rise across the country, federal public health authorities on Tuesday urged physicians to prescribe antiviral medicines to high-risk patients promptly but reminded the public that most people won't need, and shouldn't expect to get, the drugs if they come down with the flu.
USA TODAY: Border traffic plunges under passport policy
The number of people crossing the northern and southern land borders into the USA has dropped sharply since a passport requirement began June 1.
Los Angeles Times: NASA's goals and budget not in the same orbit, report says
An advisory committee endorses manned spaceflight exploration but says such a bold agenda is going to cost a lot of money.
INTERNATIONAL
For the latest international news: http://edition.cnn.com/
CNN: West Africa flooding affects 600,000, U.N. reports
Torrential rains and flooding since June have affected 600,000 people in 16 West African nations, the United Nations reported Tuesday.
CNN: Slayings of 4 Guatemalan prison officials blamed on drug trade
To hear some Guatemalans tell it, three coordinated attacks that killed four prison officials in five hours Monday hardly raised anyone's pulse.
CNN: Iranian opposition leader's office raided, shut down
Iranian authorities raided and shut down the offices of opposition leader Mehdi Karrubi, an Iranian news agency reported Tuesday, one day after another prominent reformer's office was raided.
CNN: Afghanistan commission orders partial vote recount
Afghanistan's Electoral Complaints Commission on Tuesday ordered a partial recount of the ballots in the August 20 presidential election.
CNN: Canadian to lead probe of deadly NATO airstrike
Gen. Stanley McChrystal, the top U.S. commander in Afghanistan, has appointed a Canadian officer to lead a formal investigation into a NATO airstrike that killed at least 90 people.
New York Times: Big U.S. Bases Are Part of Iraq, but a World Apart
It takes the masseuse, Mila from Kyrgyzstan, an hour to commute to work by bus on this sprawling American base. Her massage parlor is one of three on the base's 6,300 acres and sits next to a Subway sandwich shop in a trailer, surrounded by blast walls, sand and rock.
New York Times: U.S. in Delicate Spot as Fraud Claims Mount in Afghan Vote
On Monday, as the vote-counting in Afghanistan was nearing an end, Secretary of State Hillary Rodham Clinton was briefed by the American ambassador in Kabul, Karl W. Eikenberry. The same day, the ambassador delivered a blunt message to the front-runner, President Hamid Karzai: "Don't declare victory."
Washington Post: Developing World's Energy Needs Set Stage for Fight
At a wedding ceremony in New Delhi, the power blinked off just as the groom was placing the ring on his bride's finger. A factory in Nigeria was forced to relocate because the cost and scarcity of electricity made it impossible to turn a profit. Street protests over the chronic lack of power in Karachi, the economic hub of Pakistan, turned deadly as mobs chanted anti-government slogans.
BUSINESS
For the latest business news: www.CNNMoney.com.
CNNMoney: Health reform: Should insurers pay?
The negotiations over health reform are kicking into high gear. And one of the top issues is whether to make insurance companies pay for some of it.
CNNMoney: Companies playing 'Let's make a deal'
When Kraft offered $16.7 billion for Cadbury over Labor Day weekend, the deal was immediately shunned by the British candy giant.
New York Times: Overspending on Debit Cards Is a Boon for Banks
When Peter Means returned to graduate school after a career as a civil servant, he turned to a debit card to help him spend his money more carefully.
In Case You Missed It
To watch the latest interviews and reporting: http://www.cnn.com/video.
CNN: Cubans flock to hotels
Cubans once barred from resorts, now boost the bottom line. CNN's Shasta Darlington reports.
Subscribe to the CNN=Politics DAILY podcast at http://www.cnn.com/politicalpodcast.
And now stay posted on the latest from the campaign trail by downloading the CNN=Politics SCREENSAVER at http://www.CNN.com/situationroom.