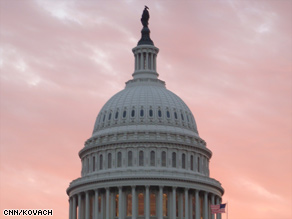 The CNN Washington Bureau's morning speed read of the top stories making news from around the country and the world.
WASHINGTON/POLITICAL
For the latest political news: www.CNNPolitics.com.
CNN: Democratic leaders in Congress soften on public option
The Democratic leaders of the House and Senate on Thursday signaled their willingness to drop a government-run public health insurance option from a final health-care bill.
CNN Poll: Terror concerns dropping
Concern about a terrorist attack in the United States is roughly half of what it was immediately after the September 11 attacks, according to a new national poll.
CNN Poll: Double-digit post-speech jump for Obama plan
Two out of three Americans who watched President Barack Obama's health care reform speech Wednesday night favor his health care plans — a 14-point gain among speech-watchers, according to a CNN/Opinion Research Corporation national poll of people who tuned into Obama's address Wednesday night to a joint session of Congress.
CNN: In selling health care, Obama's numbers pick may be telling
President Obama's address to Congress Wednesday was heavily salted with statistics.
CNN: Biden predicts health care bill 'before Thanksgiving'
Vice President Joe Biden predicted Thursday Congress will have a resolution on the health care bill "before Thanksgiving."
CNN: Holder credits GOP predecessor Mukasey for 'restoring Justice'
At a rare Justice Department event featuring a mix of smiling Democratic and Republican luminaries, Attorney General Eric Holder Thursday praised his GOP predecessor Michael Mukasey for "skill, honor, and great integrity" during his 15-month tenure.
CNN: Town hall anger echoed in Congress
Shouting from the audience. Holding up signs blasting the health care reform bill before Congress. Frequent hissing and booing.
CNN: Wilson apologizes again to Obama
A day after heckling President Obama during his address to a joint session of Congress, Rep. Joe Wilson, R-South Carolina, said Thursday that he regretted the outburst, but stood by his belief that Obama had misrepresented elements of the health care bills.