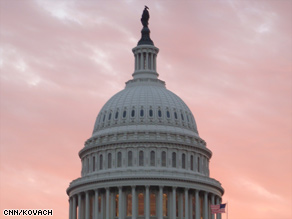 The CNN Washington Bureau's morning speed read of the top stories making news from around the country and the world.
WASHINGTON/POLITICAL
For the latest political news: www.CNNPolitics.com.
CNN: Democratic leaders in Congress soften on public option
The Democratic leaders of the House and Senate on Thursday signaled their willingness to drop a government-run public health insurance option from a final health-care bill.
CNN Poll: Terror concerns dropping
Concern about a terrorist attack in the United States is roughly half of what it was immediately after the September 11 attacks, according to a new national poll.
CNN Poll: Double-digit post-speech jump for Obama plan
Two out of three Americans who watched President Barack Obama's health care reform speech Wednesday night favor his health care plans — a 14-point gain among speech-watchers, according to a CNN/Opinion Research Corporation national poll of people who tuned into Obama's address Wednesday night to a joint session of Congress.
CNN: In selling health care, Obama's numbers pick may be telling
President Obama's address to Congress Wednesday was heavily salted with statistics.
CNN: Biden predicts health care bill 'before Thanksgiving'
Vice President Joe Biden predicted Thursday Congress will have a resolution on the health care bill "before Thanksgiving."
CNN: Holder credits GOP predecessor Mukasey for 'restoring Justice'
At a rare Justice Department event featuring a mix of smiling Democratic and Republican luminaries, Attorney General Eric Holder Thursday praised his GOP predecessor Michael Mukasey for "skill, honor, and great integrity" during his 15-month tenure.
CNN: Town hall anger echoed in Congress
Shouting from the audience. Holding up signs blasting the health care reform bill before Congress. Frequent hissing and booing.
CNN: Wilson apologizes again to Obama
A day after heckling President Obama during his address to a joint session of Congress, Rep. Joe Wilson, R-South Carolina, said Thursday that he regretted the outburst, but stood by his belief that Obama had misrepresented elements of the health care bills.
CNN: Wilson's opponent raises more than $500K
Joe Wilson's outburst has resulted in a cash windfall for his 2010 Democratic challenger Rob Miller.

CNN: Heckler Wilson 'a decent guy' with lock on district, observers say
Rep. Joe Wilson, who heckled President Obama's speech on health care reform Wednesday night, is a popular, deeply conservative, usually polite Republican with a solid lock on his district, observers say.
CNN: ACORN workers caught on tape allegedly advising on prostitution
Two employees at the Baltimore, Maryland, branch of the liberal community organizing group ACORN were caught on tape allegedly offering advice to a pair posing as a pimp and prostitute on setting up a prostitution ring and evading the IRS.
CNN: Obama steps up call for health care reform
The struggle over health care reform intensified Thursday as President Obama sought to build on what administration officials hoped was new momentum generated by his prime-time address to Congress.
CNN: South Carolina GOP calls for Sanford's resignation
Just hours after Gov. Mark Sanford held a news conference Thursday to fight back against Republican legislators seeking his ouster, the South Carolina Republican Party dealt him another blow by formally calling for his resignation.
CNN: Obama taps Los Angeles airport police official for top TSA job
President Obama said Thursday he intends to nominate a top Los Angeles International Airport police department official to head the Transportation Security Administration, the agency charged with protecting airplanes and other forms of transportation from terrorists.
CNN: Commentary: Obama lucky with his enemies
It's a truism in politics that your friends can do you in quicker than your enemies.
CNN: Assemblyman resigns as extramarital affairs come to light
A Southern California assemblyman resigned Wednesday after a recording of him whispering about sexual exploits to a colleague was made public.
CNN: U.S. envoy: Timeline for troops leaving Iraq on track
The U.S. ambassador to Iraq said Thursday that Iraq is making enough progress to stay on track for withdrawing all American troops by the end of next year.

CNN: Obama welcomes Penguins to the White House
It was anything but chilly when the Pittsburgh Penguins visited the White House Thursday to be honored by the nation's chief executive for winning the 2009 Stanley Cup.
New York Times: Obama Facing Doubts Within His Own Party on Afghanistan
The leading Senate Democrat on military matters said Thursday that he was against sending more American combat troops to Afghanistan until the United States speeded up the training and equipping of more Afghan security forces.
New York Times: Obama Factor Plays to Senator's Advantage
Mere survival was never the issue. Those familiar with Louisiana and its Republican senator, David Vitter, knew he would survive the summer of 2007, after he showed up on the client list of a Washington prostitution ring and then refused to address the matter beyond admitting to a "very serious sin" at a brief news conference.
Washington Post: Details Still Lacking On Obama Proposal
One day after President Obama pitched his plan for comprehensive health-care reform to a joint session of Congress, administration officials struggled Thursday to detail how he would achieve his goal of extending coverage to tens of millions of uninsured Americans without increasing the deficit.
Washington Post: On Malpractice Reform, Fine Print Is Still Hazy
When President Obama broached medical malpractice laws in his speech to a joint session of Congress on Wednesday night, it was one of the few times that Republican lawmakers stood to applaud. But the ideas the president embraced stopped considerably short of the federal limits on awards in malpractice lawsuits that the GOP and the nation's physicians have sought for years.
Washington Post: Bush-Era Official's Appointment to Declassification Panel Draws Fire
The newest member of a panel that advises the president on declassification policy is a former top intelligence official who oversaw some of the Bush administration's most controversial counterterrorism programs.
Miami Herald: Florida's George LeMieux gets ready to become next senator
Twenty years ago, George LeMieux was a college student working for then Florida Sen. Connie Mack. On Thursday, it was LeMieux prepping for senatorial duty.
NATIONAL
For the latest national news: www.CNN.com.
CNN: Sunday school teacher to face death in child's killing
Prosecutors will seek the death penalty against a former California Sunday school teacher accused of killing an 8-year-old girl earlier this year.
CNN: Study: Single dose of H1N1 flu vaccine may suffice for adults
A single low dose of H1N1 vaccine may be enough to protect adults from the flu virus that has been spreading around the world, new data shows.
CNN: Jessica Seinfeld wins plagiarism case against her
A federal judge on Thursday threw out an author's claims that Jessica Seinfeld, the comedian's wife, plagiarized from her cookbook, but the judge left open claims of defamation against Jerry Seinfeld himself.
CNN: Madoff taped telling colleagues how to deal with regulators
"Obviously, first of all, this conversation never took place. ... OK?"
CNN: How to bargain hunt for health care
When Bridget and Scott Bear were expecting their first child, they wanted to know what it would cost so they could set aside enough money in their health savings account.
CNN: Pre-emptive triage up for bleeding airlines
Gearing up for further bloodletting, airlines seem to be performing pre-emptive triage.
CNN: Vacationing girl's message in bottle follows her home
A few days after Meagan Bilodeau dropped a bottled message into the Atlantic Ocean during a cruise near Bermuda, the girl was home in Massachusetts.
CNN: Police: Yale student, a bride-to-be, disappears
Police are searching for a Yale University graduate student and bride-to-be who disappeared and was last seen outside a school of medicine building.
New York Times: Remembering a Future That Many Feared
The day dawned different and stayed that way. Traffic was thin and sidewalks quiet. The stock exchange didn't open, nor the airports, the schools, Broadway. People loaded up on bottled water, batteries, canoes. The law enforcement presence was intense: men with machine guns, gunboats circling the harbor.
New York Times: Last Year's Poverty Rate Was Highest in 12 Years
In the recession, the nation's poverty rate climbed to 13.2 percent last year, up from 12.5 percent in 2007, according to an annual report released Thursday by the Census Bureau. The report also documented a decline in employer-provided health insurance and in coverage for adults.
Washington Post: 9/11 as a Lesson, Not a Memory
The students filed into their social studies class just after lunch and slumped into desks where they had learned about the Civil War, Lewis and Clark, and the bombing of Pearl Harbor
Boston Globe: Harvard endowment posted 27 percent loss
Harvard University's endowment lost 27.3 percent of its value in its most recent fiscal year, or nearly $11 billion, as tumultuous markets ate away at one of the school's main sources of funding and forced a number of cutbacks.
Christian Science Monitor: DNA evidence clear Florida inmate after 26 years
Anthony Caravella was sentenced as a teenager to life imprisonment on charges of rape and murder. Increasingly, DNA tests are uncovering evidence of shoddy police work and questionable prosecution tactics.
INTERNATIONAL
For the latest international news: http://edition.cnn.com/
CNN: Volunteer militias push back Taliban
Sixteen-year-old Akbar Zaid dreams of becoming a teacher. But for now, his summer job involves holding an automatic rifle and hunting down Taliban fighters.
CNN: Whistleblower sues Afghanistan security firm
A former manager for the private contractor that provides guards for the U.S. Embassy in Afghanistan said he tried to blow the whistle more than a year ago about inadequate staffing and improper behavior by guards, including going to brothels and sex trafficking.
CNN: Istanbul buries dead after fatal floods
A day after deadly water roared through this city, killing dozens of residents, hundreds of mourners gathered at a mosque for the funerals of seven women who drowned in a minivan.
CNN: China set to provide first swine flu vaccines
China has developed a vaccine for swine flu and is set to become the first country in the world to begin mass inoculations, but there are concerns over possible side effects, the World Health Organization (WHO) has said.
CNN: Rights groups calls on Iran to probe detainee abuse allegations
Iran is spending more time investigating the victims of torture and rape behind bars than investigating those who committed such abuses, a human rights group claimed Thursday.
CNN: Scores killed in multiple Iraq bombings
Four bombing attacks in Iraq killed at least 26 people and wounded more than 80 others, officials said Thursday.
New York Times: Arctic Shortcut Beckons Shippers as Ice Thaws
For hundreds of years, mariners have dreamed of an Arctic shortcut that would allow them to speed trade between Asia and the West. Two German ships are poised to complete that transit for the first time, aided by the retreat of Arctic ice that scientists have linked to global warming.
New York Times: Russia Says Sanctions Against Iran Are Unlikely
Foreign Minister Sergey V. Lavrov on Thursday all but ruled out imposing new sanctions against Iran over its nuclear program, brushing aside growing Western concerns that Iran had made significant progress in recent months in a bid for nuclear weapons.
New York Times: Colombia Confronts Drug Lord's Legacy: Hippos
Even in Colombia, a country known for its paramilitary death squads, this hunting party stood out: more than a dozen soldiers from a Colombian Army battalion, two Porsche salesmen armed with long-range rifles, their assistant, and a taxidermist.
New York Times: 2 Say They Reported Abuses at Embassy
Two former employees of a private contractor hired to provide security at the United States Embassy in Afghanistan charged that State Department officials were aware as early as 2007 that guards and supervisors were involved in lewd conduct.
BUSINESS
For the latest business news: www.CNNMoney.com.
CNNMoney: Stimulus boosted jobs by 1 million – White House
The nation's economy started to turn around after the passage of President Obama's $787 billion stimulus package in February, his chief economic adviser said Thursday.
CNNMoney: Senate grills SEC for 'colossal failure' on Madoff
Lawmakers took the Securities and Exchange Commission to task Thursday for failing to prevent Bernard Madoff from perpetrating one of the largest financial frauds in U.S. history.
CNNMoney: GM introduces money-back guarantee
Buy a new General Motors car. Don't like it? Return it and get your money back.
New York Times: Cautiously, Small Investors Edge Back Into Stocks
Like millions of ordinary investors, Cindy and Eric Canup are still recovering from Wall Street's big downturn. Their portfolio is off by 25 percent. They are mindful of their spending. And their dreams of buying land in Northern California or Oregon have been delayed five to 10 years, until they can rebuild their retirement accounts.
In Case You Missed It
To watch the latest interviews and reporting: http://www.cnn.com/video.
CNN: Life on a Marine base
Anderson Cooper gives us a close-up look at what life is like on a Marine base on the Afghan battlefront.
Subscribe to the CNN=Politics DAILY podcast at http://www.cnn.com/politicalpodcast.
And now stay posted on the latest from the campaign trail by downloading the CNN=Politics SCREENSAVER at http://www.CNN.com/situationroom.