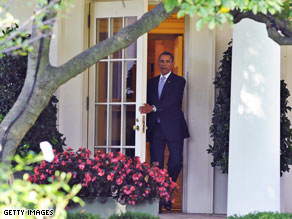 Slight majority approve of Obama on economy.

WASHINGTON (CNN) - As President Barack Obama gives a speech on the economy Monday in New York City, a new national poll indicates that a slight majority of Americans approve of the way the president is handling the issue.
Fifty-four percent of people questioned in a CNN/Opinion Research Corporation survey (pdf) say they approve of how Obama's dealing with the recession, with 45 percent saying they disapprove. The 54 percent figure is up 5 points from late last month but down from the 59 percent
who approved of how the president was handing the economy in March.
President Obama's approval rating on the economy is separate from the approval rating on his overall job as president.
The poll was conducted Friday through Sunday, after Obama's prime time address to a joint session of Congress.

"It's possible that Obama's address to Congress boosted his ratings on the economy, even though Obama only mentioned that topic at the very beginning of his remarks. That often happens after major presidential speeches," says CNN Polling Director Keating Holland. "For example, Bill Clinton's rating on the economy went up 8 points after his health care speech in September, 1993."
The poll indicates a partisan divide, with Democrats overwhelmingly approving and Republicans overwhelmingly disapproving of how the president's dealing with the economy. A slight majority of independents disapprove of how Obama's handling the issue.
The CNN/Opinion Research Corporation poll of 1.012 Americans was conducted by telephone 9/11-13. The survey's sampling error is plus or minus 3 percentage points.
captiopdf)