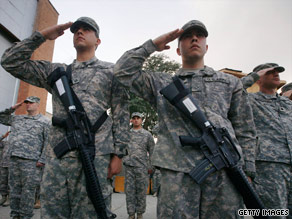 U.S. troops participate in a ceremony commemorating the eighth anniversary of 9/11 in Bagram, Afghanistan.
WASHINGTON (CNN) - Support for the war in Afghanistan is at an all-time low, according to a new national poll.
A CNN/Opinion Research Corp. survey released Tuesday morning indicates that 39 percent of Americans favor the war in Afghanistan, with 58 percent opposed to the mission.
Support is down from 53 percent in April, marking the lowest level since the start of the U.S. military mission in Afghanistan soon after the September 11, 2001, attacks.
The poll suggests that 23 percent of Democrats support the war. That number rises to 39 percent for independents and 62 percent for Republicans.