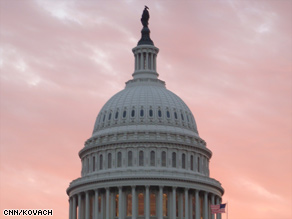 The CNN Washington Bureau's morning speed read of the top stories making news from around the country and the world.
WASHINGTON/POLITICAL
For the latest political news: www.CNNPolitics.com.
CNN: Carter: Racism plays major role in opposition to Obama
Former President Jimmy Carter said Tuesday that racial politics played a role in South Carolina Rep. Joe Wilson's outburst during President Obama's speech to Congress last week and in some of the opposition the president has faced since taking office.
CNN: Gang of Six Republicans say no to Baucus bill — for now
CNN has learned that – barring some unforeseen change — Democratic Senate Finance Chairman Max Baucus will unveil a health care proposal Wednesday without the support of the three Republican senators — Charles Grassley, Mike Enzi and Olympia Snowe — he's been negotiating with for months.
CNN: House passes resolution criticizing Wilson
The House of Representatives on Tuesday formally admonished Republican Rep. Joe Wilson for shouting "you lie" during President Obama's speech to a joint session of Congress last week.
CNN: Wilson supporters to House Democrats: Bring it on
As House Democrats march forward with plans to formally reprimand Republican Joe Wilson for calling President Obama a liar during last week's joint address to Congress, Wilson's supporters back home in South Carolina have a straightforward response: Bring it on.
CNN: Boehner: Wilson resolution a 'diversion'
House Minority Leader John Boehner told CNN a resolution of disapproval against South Carolina Rep. Joe Wilson is a "diversion" to help Democrats avoid talking about health care.
CNN: Baghdad's International Zone attacked as Biden visits
The highly fortified International Zone in Baghdad came under fire the same day that Vice President Joe Biden paid a surprise visit, an Interior Ministry official told CNN.
CNN: Obama defends auto bailout, touts new fuel rules
President Obama took his economic recovery message on the road Tuesday, defending the controversial auto bailout during an appearance at a General Motors plant in the heart of the struggling Rust Belt.
CNN: Bush on Obama: 'This guy has no clue'
Former President George W. Bush "seemed to feel considerable unease" with John McCain as the Republican presidential nominee, according to ex-speechwriter Matt Latimer in his tell-all memoir on his days in the White House.
First on the Ticker: Bush, Palin aide disputes book claims
A former aide to George W. Bush and Sarah Palin is dismissing a claim by onetime Bush speechwriter Matt Latimer that the former president was clueless about Palin when she was tapped as John McCain's running mate last August.
CNN: Republicans warn of rationing for disabled children
Surrounded by a group of parents clutching pictures of their special needs children, two Republican members of Congress stood in front of the Capitol on Tuesday and warned that President Obama's proposed health care system will lead to a rationing of care for children with disabilities.
CNN: Movement 'coming from the soil of America,' conservative says
Three days after conservatives converged on the nation's capital to express their concerns about a number of the Obama administration's policies, a leading social conservative has a warning for the Republican Party.
First on the Ticker: RNC to spend $7 million in Virginia race
The Republican National Committee is committing to spend more than $7 million on the Virginia governor's race, a party official told CNN on Tuesday.
CNN: Bill Clinton endorses Newsom in California governor's race
Former President Bill Clinton will endorse San Francisco mayor Gavin Newsom in the 2010 California governor's race, a Clinton aide confirmed to CNN.
CNN: Lynch decides against run for Kennedy seat
Massachusetts Rep. Stephen Lynch announced Tuesday he will forgo a run for the Senate seat long held by the late Sen. Ted Kennedy.
New York Times: Fight Looming on Tax Break to Buy Houses
When Congress passed an $8,000 tax credit for first-time home buyers last winter, it was intended as a dose of shock therapy during a crisis. Now the question is becoming whether the housing market can function without it.
New York Times: House Panel Resists Changes in NASA Space Program
Members of a key House committee said Tuesday that they were reluctant to change NASA's current plans for human spaceflight after the space shuttles are retired from service, beyond giving more money to the agency.
Washington Post: Young Adults Likely to Pay Big Share of Reform's Cost
As health-care legislation advances through Congress, the young adults who were so vital to President Obama's election are emerging as a significant beneficiary of his top domestic priority, but they are also likely to play a major role in funding any reform.
Washington Post: Full Slate of Issues Likely to Extend Lawmakers' Work Calendar
Even as health-care reform dominates the agenda, Congress is confronting so many other issues that lawmakers could be kept at work through the first frost of winter.
Washington Post: As Right Jabs Continue, White House Debates a Counterpunching Strategy
Facing a near-daily barrage of attacks from conservative opponents, White House officials are engaged in an internal debate over how hard to hit back, even as they have grown increasingly aggressive in countering allegations they deem to be absurd.
Washington Post: DNI's Strategic Plan Outlines New Missions
The top U.S. intelligence official said counterintelligence and cybersecurity would be given new emphasis under a four-year strategic plan he unveiled Tuesday.
Wall Street Journal: Mandated Health Insurance Squeezes Those in the Middle
President Barack Obama and his congressional allies have made insuring nearly all Americans a major goal of overhauling the nation's health-care system. One of their toughest challenges will be trying to cover people like Ron Norton of Worcester, Mass.
Wall Street Journal: How 'Buy American' Can Hurt U.S. Firms
On paper, Tom Pokorsky would seem to be a clear beneficiary of the government's $787 billion economic-stimulus package.
Los Angeles Times: Obama takes heat from other side of immigrant healthcare debate
He suggests that those here illegally be kept from taking part in an insurance exchange set up by the government. Some on the left say that's bad policy that panders to the likes of Joe Wilson.
NATIONAL
For the latest national news: www.CNN.com.
CNN: Police seek DNA from Yale worker in death of student
Police said Tuesday night they have a Yale University employee in custody in connection with the killing of Yale student Annie Le.
CNN: Execution problems prompt one-week reprieve for Ohio inmate
Ohio Gov. Ted Strickland on Tuesday gave a death-row inmate a one-week reprieve after authorities tried for hours to find a vein to administer his lethal injection.
CNN: Serena Williams tries to move on from uproar over outburst
Serena Williams just wants to move on. But the controversy around her obscenity-laced tirade at a line judge at the U.S. Open continues.
CNN: Police search Garrido home in connection with other abductions
The mother of a missing girl, whose 20-year-old case authorities now say may be linked to the Jaycee Dugard kidnapping suspects, said Tuesday that she holds out hope that her daughter will be found alive.
CNN: Oldest Medal of Honor recipient, 100, downplays 'hero' talk
Dozens of America's greatest military heroes are gathered in Chicago, Illinois, possibly the last large gathering of living Medal of Honor recipients.
CNN: Johns Hopkins student kills apparent burglar with sword
A Johns Hopkins University student killed an apparent burglar with a samurai sword after discovering the man in his garage, police said Tuesday.
CNN: Beloved New York diner begins move south
There's no shortage of diners in New York City, but one of its most beloved will soon be taking up residence in Alabama.
New York Times: Wages Grow for Those With Jobs, New Figures Show
Last winter, stories of companies cutting their workers' pay were everywhere. FedEx said in December that it would reduce the pay of salaried workers by 5 percent. Caterpillar announced it would cut pay by up to 15 percent. The employees of a General Motors dealership near Philadelphia agreed to work one week for minimum wage.
New York Times: Where Cancer Progress Is Rare, One Man Says No
Politicians and researchers have predicted for nearly four decades that a cure for cancer is near, but cancer death rates have hardly budged and most new cancer drugs cost a fortune while giving patients few, if any, added weeks of life. For this collective failure, the man atop the nation's regulatory agency for new cancer drugs increasingly — and supporters say unfairly — gets the blame: Dr. Richard Pazdur.
New York Times: Suicide Victim May Have Hidden Millions Overseas
He seemed, in many ways, like a man from another time, a Gatsbyesque figure who glided through a world of old money, private clubs and pedigree horses, his family name emblazoned on Ivy League halls.
INTERNATIONAL
For the latest international news: http://edition.cnn.com/
CNN: Gaza acts amounted to war crimes, U.N. report says
A United Nations report issued Tuesday says both Israel and the Palestinians committed actions amounting to war crimes during Israel's military incursion into Gaza from December 27 to January 18.
CNN: Hatoyama elected as Japan's prime minister
As expected, Japan's parliament elected Yukio Hatoyama as the country's new prime minister on Wednesday.
CNN: U.S. fears Venezuela could trigger regional arms race
The United States fears recent weapons purchases by Venezuela could fuel an arms race in South America, Secretary of State Hillary Clinton said Tuesday.
CNN: French lawmakers target Internet piracy
The French National Assembly gave preliminary approval Tuesday to a measure that seeks to crack down on Internet piracy.
CNN: Turkish leader denies press crackdown
Turkey's Prime Minister Recep Tayyip Erdogan is denying accusations that a record fine levied against the country's largest media conglomerate, Dogan Holding, was politically motivated.
CNN: Medvedev: U.S. blocking Russia's WTO entry
Russian President Dmitry Medvedev on Tuesday accused the United States of "blocking" Russia's accession to the World Trade Organization.
CNN: Juarez, Mexico, killings reach new high
The number of drug-related killings in Ciudad Juarez, Mexico, so far this year has reached 1,647, surpassing the death toll for all of 2008, a city spokesman told CNN.
CNN: Bush 'shoe thrower' claims he was tortured in prison
The Iraqi man who was jailed after throwing his shoes at then-President George W. Bush last year arrived in Syria on Tuesday night, hours after being released from prison, his employer said.
New York Times: Afghan Recount Presents Huge Task
One out of every seven ballots in last month's Afghan presidential elections — and possibly many more — will be examined as part of a huge recount and fraud audit that may force the incumbent, Hamid Karzai, into a runoff, Afghan election officials said Tuesday.
New York Times: Billion-Dollar Pyramid Scheme Rivets Lebanon
The investor, a heavyset man in a gray polo shirt, sat back in a plastic chair in his hardware store and sighed, unable to explain how his life savings had vanished so quickly into thin air.
BUSINESS
For the latest business news: www.CNNMoney.com.
CNNMoney: The SEC gets neutered again
The outrage over big bonuses paid to Merrill Lynch employees is quickly becoming less a scandal for Bank of America and more of another black eye for Wall Street's top cop in Washington.
CNNMoney: Recession likely over but slog ahead
In his first speech since he was reappointed, Federal Reserve Chairman Ben Bernanke said the recession is "very likely over" but detailed the tough road ahead for the economy.
CNNMoney: Buffett praises U.S. recovery efforts
Warren Buffett praised the U.S. government Tuesday for its efforts to heal the economy, but the influential investor said he expects a slow recovery as consumers remain wary of spending.
USA TODAY: Fuel-economy rules set 35.5 mpg standard for 2016 models
The government announced tough new fuel-economy standards Tuesday in a proposed rule that also would place the first nationwide limits on vehicles' greenhouse gas emissions, blamed for global warming.
In Case You Missed It
To watch the latest interviews and reporting: http://www.cnn.com/video.
CNN: Tim Gunn talks fashion
Project Runway mentor Tim Gunn talks about the show and what all women should own.
Subscribe to the CNN=Politics DAILY podcast at http://www.cnn.com/politicalpodcast.
And now stay posted on the latest from the campaign trail by downloading the CNN=Politics SCREENSAVER at http://www.CNN.com/situationroom.