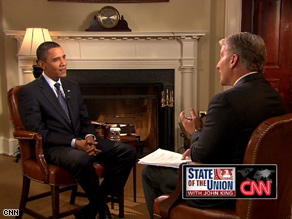 'We've got 80 percent agreement' on the details of health care reform, President Obama said in an interview with CNN's John King.
WASHINGTON (CNN) - With the last of five congressional committees finally set to begin work marking up its version of health care reform legislation, President Obama said he is concerned about making sure there is affordable coverage available for the tens of millions of currently uninsured Americans who will likely be required to purchase health insurance if reform legislation is enacted.
"I'd like to make sure that we've got that affordability really buttoned down," the president said in an interview that airs Sunday on CNN's State of the Union, "because I think that's one of the most important things... if we're offering people health insurance and we're saying that people have to get health insurance - if it's affordable, we've got to make sure it's affordable."
After months of closed-door negotiations by the Senate Finance Committee's so-called "Gang of Six" – three Democrats and three Republicans – committee chairman Max Baucus, D-Montana, unveiled a bill last week that lacked any Republican support. The full committee is set to begin its mark-up of Baucus' proposal this week.
Obama would not say whether or not he would sign Baucus' proposal as-is if it arrived on his desk in the Oval Office. "[T]hat's such a hypothetical, since it won't get there as-is, that I'm not going to answer that question. But can I say that, it does meet some broad goals that all the bills that have been introduced meet."
Obama pointed out that the Baucus bill included insurance underwriting reforms like prohibiting denying coverage because of pre-existing conditions. The proposal also would not add to the federal deficit in the next 10 years and it seeks to decrease the rate at which health care costs have been rising, the president said.
"[T]here are a whole bunch of details that still have to get worked out," Obama told CNN Chief National Correspondent John King, "But what I'll say is, is that right now I'm pleased that, basically, we've got 80 percent agreement, we've got to really work on that next 20 percent over the last few weeks."