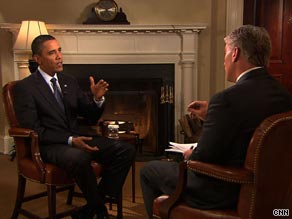 President Obama discusses the economy and other topics with CNN's John King.
(CNN) - A remarkably diverse issues portfolio in the week ahead, and if you prefer a neat theme to lump it all together, try this: Follow the leader - or leaders if you want a week with international flavor.
President Obama will explore the world, and many of its problems and crises, over the course of the week without traveling all that far. Two major international gatherings the United Nations General Assembly in New York and a G-20 economic summit in Pittsburgh, Pennsylvania, will bring a host of international dignitaries to the United States.
But back to the world stage in a moment.
The president begins the week looking to bolster public confidence in the strength of the U.S. economy - and in his handling of economic issues.
More confident is a good way to describe the president's mood when it comes to the overall economic outlook; extraordinarily cautious - his choice of words when looking at the economy from the perspective the matters most of everyday Americans.