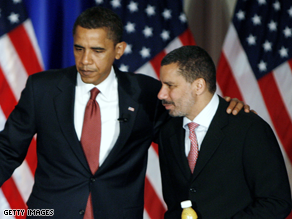 Obama and Paterson will attend the same event in Troy, New York Monday.
(CNN) - Call it interesting timing.
New York Gov. David A. Paterson attends an economy event with President Barack Obama today in Troy, New York.
The event comes one day after Paterson said he will run next year for election for a full term as governor, despite a New York Times report that said the White House is "urging" him to withdraw.
Senior White House officials deny the report, which said that President Obama "sent a request" to Paterson. The paper described it as "an extraordinary intervention into a state political race by the president."
The Times report cited "two senior administration officials and a New York Democratic operative with direct knowledge of the situation."
Speaking to CNN, White House officials acknowledged that aides have conveyed to Paterson's camp that they are aware of Paterson's unpopularity at home and the political troubles it could cause.
"It's no secret that Democrats in New York are very concerned about the situation," said one White House official. "We share those concerns and those concerns have been conveyed in an appropriate way."
Paterson told reporters Sunday, "I am running for office. I'm not going to discuss confidential conversations." He said he was focused on state legislation, not "distractions."
The New York Times story said the situation is "delicate," and noted that Paterson is one of only two African-American governors in the United States, the other being Deval Patrick of Massachusetts.
The report said the president's "political team and other party leaders have grown increasingly worried that the governor's unpopularity could drag down Democratic members of Congress in New York, as well as the Democratic-controlled Legislature, in next fall's election."
Paterson was lieutenant governor when a scandal led to then-Gov. Eliot Spitzer's departure from the office in March 2008.
Recent polls suggest that Paterson's approval rating among New York State voters ranges from the low 20's to around 30 percent. And surveys suggest Paterson trails New York State Attorney General Andrew Cuomo in a hypothetical Democratic gubernatorial primary by more than a two to one margin. Cuomo has not indicated whether he will challenge Paterson in 2010, but the son of former New York State Governor Mario Cuomohas amassed a large war chest.
Polls also indicate that Paterson trails former New York City Mayor Rudy Giuliani in a hypothetical 2010 general election match up by nearly a two to one margin. Giuliani, a Republican presidential candidate in the 2008 campaign, has not decided whether he'll run for governor.
- CNN's Ed Henry and Paul Steinhauser contributed to this report