Editor's Note: PolitiFact.com is a project of the St. Petersburg Times that aims to help you find the truth in politics. Every day, reporters and researchers from the Times examine statements by members of Congress, the president, etc. They research their statements and then rate the accuracy on their Truth-O-Meter.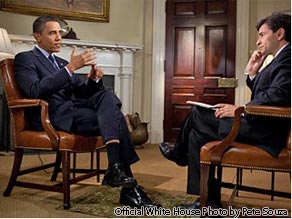 President Obama in an interview on ''This Week'' with George Stephanopoulos.
President Barack Obama went on the Sunday news shows to make the case for health reform.
This Week host George Stephanopolous questioned Obama on his support for an individual mandate, which requires everyone who can find affordable coverage to purchase health insurance.
Obama defended the matter as a fairness issue to people who now have coverage.
"Here's what's happening," Obama said. "You and I are both paying 900 bucks on average - our families - in higher premiums because of uncompensated care. Now, what I've said is that, if you can't afford health insurance, you certainly shouldn't be punished for that. That's just piling on.
"If, on the other hand, we're giving tax credits, we've set up an exchange, you are now part of a big pool. We've driven down the costs, we've done everything we can, and you actually can afford health insurance. But you've just decided, 'You know what? I want to take my chances,' and then you get hit by a bus, (then) you and I have to pay for the emergency room care."
The Truth-O-Meter says: HALF TRUE