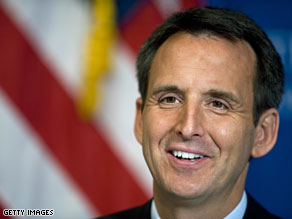 Tim Pawlenty may be interested in running for the Republican presidential nomination in 2012.
WASHINGTON (CNN) - Tim Pawlenty is joining the PAC club.
In another indication that he may be interested in running for the Republican presidential nomination in 2012, the Minnesota governor will launch a political action committee in the next few weeks.
The "Freedom First PAC" will allow Pawlenty to raise cash and donate the money to federal and state candidates across the country.
Alex Conant, an unofficial adviser to Pawlenty, says the first fundraiser will be held in Minnesota in a few weeks. Conant, a former press secretary for the Republican National Committee, says the PAC is another way for Pawlenty to help GOP candidates who are seeking election.

When Minnesota governor announced earlier this year that he would not run for re-election in 2010, he said that along with finishing his term, assisting fellow Republicans would be one of his priorities.
Since then, Pawlenty was elected vice chairman of the Republican Governors Association, and has campaigned for the GOP gubernatorial candidates in New Jersey and Virginia, the two states that hold gubernatorial elections this November.
Pawlenty has been increasingly visible this summer. He was was one of the main speakers at a Republican National Committee conference in San Diego in July, the keynote speaker at a Republican Party of Florida dinner in August, and a speaker last weekend at the Value Voters Summit in Washington. Next month, Pawlenty is slated to be one of the headliners at the Western Conservative Political Action Conference in San Diego.
"Pawlenty will be a serious candidate for the Republican presidential nomination if he chooses to run in 2012," said CNN Political Editor Mark Preston. "He has an impressive resume and is well liked by the conservative base. He was smart to spend part of the summer criss-crossing the country helping his fellow Republicans raise money. Those are chits he might be able to cash in later."
With the startup of his PAC, Pawlenty now joins Mitt Romney, Mike Huckabee and Sarah Palin as possible 2012 GOP presidential hopefuls who have political action committees.
Former House Speaker Newt Gingrich also raises money through his political organization, American Solutions for Winning the Future, which is incorporated as a 527 group, and is not subject to the same contribution limits as political action committees. Unlike PACs, 527s can also directly accept funds from corporations but are barred from directly contributing to a candidate or financing a potential White House bid.