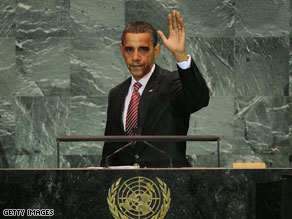 Obama calls for restarting Middle East talks on two-state solution .
UNITED NATIONS (CNN) - President Barack Obama made a strong call Wednesday for renewed efforts to reach a Middle East agreement that creates a secure Israel and an independent Palestinian state.
"The time has come to re-launch negotiations - without preconditions - that address the permanent-status issues: security for Israelis and
Palestinians; borders, refugees and Jerusalem," Obama said in his first speech as president to the U.N. General Assembly.
"The goal is clear: two states living side by side in peace and security - a Jewish State of Israel, with true security for all Israelis; and a viable, independent Palestinian state with contiguous territory that ends the occupation that began in 1967, and realizes the potential of the Palestinian people."
His statement prompted applause, and Obama received an ovation when he later stated: "The United States does Israel no favors when we fail to couple
an unwavering commitment to its security with an insistence that Israel respect the legitimate claims and rights of the Palestinians.
"And nations within this body do the Palestinians no favors when they choose vitriolic attacks against Israel over a constructive willingness to recognize Israel's legitimacy, and its right to exist in peace and security."