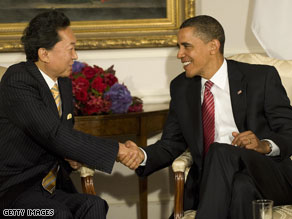 Obama empathizes with new Japanese prime minister.
NEW YORK (CNN) - President Barack Obama met Wednesday with Japan's new prime minister, saying afterwards he was impressed with Yukio Hatoyama's knowledge and determination.
The leaders of the world's two largest economies discussed international threats including nuclear proliferation, Afghanistan and Pakistan as well as climate change, Obama said.
He also expressed empathy for Hatoyama's having to attend a global summit so soon after taking office.
They met as world leaders gathered in New York for the opening of the United Nations General Assembly.
Hatoyama's Democratic Party of Japan won a landslide election in August to take power from the Liberal Democratic Party, which had run the country for nearly half a century.
Hatoyama ran on an Obama-style message of change, but also strongly criticized what he perceived as his opponent Taro Aso's pro-United States stance.
He said he will halt Japan's refueling missions in the Indian Ocean in support of U.S.-led coalition warships in and around Afghanistan.
But analysts say Hatoyama is unlikely to risk alienation abroad while he focuses on fixing what ails Japan domestically.
He vowed in his appearance with Obama that the two countries would work together on Afghanistan and North Korea, as well as nuclear nonproliferation and climate change.
U.S. Secretary of State Hillary Clinton, National Security Adviser James Jones, and U.N. Ambassador Susan Rice also attended the meeting, among other officials on both sides.