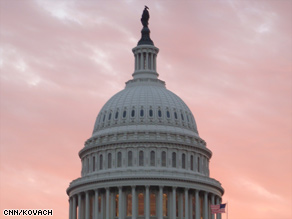 The CNN Washington Bureau's morning speed read of the top stories making news from around the country and the world.
WASHINGTON/POLITICAL
For the latest political news: www.CNNPolitics.com.
CNN: Borger: Congress needs 'Boss Obama'
First of all, let me stipulate that, as a purely political matter, I take no issue with President Obama's concern that Democrats could take a shellacking in 2010.
CNN: Senate panel begins consideration of Baucus health plan
Senate Finance Committee Chairman Max Baucus on Tuesday unveiled changes to his compromise health care proposal intended to alleviate the concerns of fellow Democrats as the panel began debating more than 560 proposed amendments to the measure.
CNN: Rep. Ross defends pharmacy sale
One of the leading critics of some of the more liberal elements of the House Democrats' health reform bill is answering questions about his ties to a company with a stake in the debate.
CNN: Massachusetts Senate clears way for Kennedy replacement
The Massachusetts Senate approved a bill Tuesday that would allow the state's governor to appoint an interim replacement to hold the late Sen. Ted Kennedy's seat until a special election is held in January.
CNN: Edwards mistress Rielle Hunter changes names, images
Rielle Hunter, the woman at the center of the John Edwards sex scandal, has been known variously as a spiritual seeker, an aspiring actress, a party girl and a political operative, according to media reports.
CNN: Edwards asked aide to claim paternity, sources say
Former Democratic presidential hopeful John Edwards talked a campaign aide into claiming he fathered a child born to Edwards' onetime mistress, sources familiar with the issue said Monday.