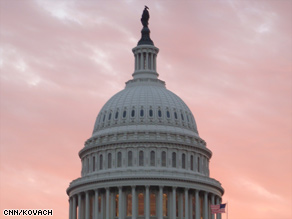 The CNN Washington Bureau's morning speed read of the top stories making news from around the country and the world.
WASHINGTON/POLITICAL
For the latest political news: www.CNNPolitics.com.
CNN: Borger: Congress needs 'Boss Obama'
First of all, let me stipulate that, as a purely political matter, I take no issue with President Obama's concern that Democrats could take a shellacking in 2010.
CNN: Senate panel begins consideration of Baucus health plan
Senate Finance Committee Chairman Max Baucus on Tuesday unveiled changes to his compromise health care proposal intended to alleviate the concerns of fellow Democrats as the panel began debating more than 560 proposed amendments to the measure.
CNN: Rep. Ross defends pharmacy sale
One of the leading critics of some of the more liberal elements of the House Democrats' health reform bill is answering questions about his ties to a company with a stake in the debate.
CNN: Massachusetts Senate clears way for Kennedy replacement
The Massachusetts Senate approved a bill Tuesday that would allow the state's governor to appoint an interim replacement to hold the late Sen. Ted Kennedy's seat until a special election is held in January.
CNN: Edwards mistress Rielle Hunter changes names, images
Rielle Hunter, the woman at the center of the John Edwards sex scandal, has been known variously as a spiritual seeker, an aspiring actress, a party girl and a political operative, according to media reports.
CNN: Edwards asked aide to claim paternity, sources say
Former Democratic presidential hopeful John Edwards talked a campaign aide into claiming he fathered a child born to Edwards' onetime mistress, sources familiar with the issue said Monday.
CNNMoney: Unemployment benefits: Bill could help more than 1 million jobless
More than a million people could receive an additional 13 weeks of unemployment benefits under a bill approved by the House on Tuesday.

CNN: Is there a 'Plan B' for U.S. efforts in Afghanistan?
In a sign that President Obama is facing growing skepticism within his own party on Afghanistan, House Majority Leader Steny Hoyer said Tuesday that the U.S. commander in Afghanistan should brief Congress on his recommendations for revising U.S. military strategy.
CNN: McCain blasts 'disconnect' between WH and military leaders
Sen. John McCain questioned the Obama administration's approach in Afghanistan Tuesday, saying he has never seen such a "disconnect" between the White House and leaders of the U.S. military.

CNN: Hoyer says McChrystal should brief Congress
In a sign that President Obama is facing growing skepticism within his own party on Afghanistan, House Majority Leader Steny Hoyer joined the call made by several top Republicans on Capitol Hill for the U.S. Commander in Afghanistan General Stanley McChrystal to brief Congress on his recommendations for revising U.S. military strategy.
CNN: Georgia congressman: Wilson's outburst 'carefully calculated'
Rep. Hank Johnson is standing by his comments that Rep. Joe Wilson's "You lie!" outburst at President Obama "instigated more racist sentiment" and could lead to a resurgence of the Ku Klux Klan.
CNN: Agency: Coverage for illegal immigrants hard to calculate
The number of unauthorized immigrants who might illegally access health care subsidies under currently debated health care bills is too uncertain to calculate, the Congressional Budget Office said Tuesday.
CNN: Jenny Sanford scores book deal
Jenny Sanford, the estranged wife of South Carolina Gov. Mark Sanford, is writing a book.
CNN: Whitman launches first ad of California governor's race
On the same day she officially announced her candidacy for California governor, former eBay CEO Meg Whitman launched the first statewide ad of the 2010 campaign — a 60-second radio spot highlighting the Republican's corporate credentials and experience creating jobs.
CNN: Pawlenty joins PAC club
Tim Pawlenty is joining the PAC club. In another indication that he may be interested in running for the Republican presidential nomination in 2012, the Minnesota governor will launch a political action committee in the next few weeks.
CNN: Poll: New York governor not getting job done
A new poll suggests that nearly three out of four New York State voters like Gov. David Paterson — but don't think he's getting the job done.
New York Times: Obama Is Considering Strategy Shift in Afghan War
President Obama is exploring alternatives to a major troop increase in Afghanistan, including a plan advocated by Vice President Joseph R. Biden Jr. to scale back American forces and focus more on rooting out Al Qaeda there and in Pakistan, officials said Tuesday.
New York Times: Democrats Spar Among Themselves Over PhRMA Deal
The first big fight over the Senate Finance Committee's health care legislation erupted Tuesday night: a rollicking brawl over a deal that the Obama administration cut with the pharmaceutical industry to achieve $80 billion in savings on drug costs over 10 years, money that would help pay for the legislation.
New York Times: Justice Dept. Plans to Limit Use of State Secrets Privilege
The Justice Department is preparing to impose new limits on the government assertion of the state secrets privilege used to block lawsuits for national security reasons. The practice was a major flashpoint in the debate over the escalation of executive power and secrecy during the Bush administration.
Washington Post: Visit by Burmese Official Hints at U.S. Policy Shift
For the first time in nine years, the United States allowed Burma's foreign minister to come to Washington, a sign of softening U.S. policy toward the military junta that has run that Asian nation for nearly five decades.
Chicago Tribune: Chicago police to stop guarding Obamas' Kenwood house
The overtime detail assigned to guard President Barack Obama's home since shortly after his election will end Oct. 1, Chicago Police Department officials said Tuesday.
POLITICO: For CBC, the joy is tempered by worry
For the Congressional Black Caucus and its 42 members, these should be the best of times.
NATIONAL
For the latest national news: www.CNN.com.
CNN: Flood dangers subside in Georgia
The death toll climbed higher Tuesday in Georgia as dry skies over much of metropolitan Atlanta stopped advancing floods.
CNN: Drowning mother: 'Please, come help me!'
Seydi Burciaga just finished her overnight shift at Sam's Club, where she worked for the past 10 years. She made her way through the pouring rain in her minivan and turned onto her cul-de-sac in suburban Atlanta.
CNN: Recalling Katrina, few at Georgia shelter complain
"These are top notch. I mean, these are really good!" said Cosman Dragoiescu, holding a plastic Panera Bread cup with two sugar-sprinkled, glazed nuggets that did look, for the most part, tasty.
CNN: Stadiums, hotels attract 'terrorist interest,' feds say
The Department of Homeland Security and FBI have issued security bulletins to raise awareness regarding "terrorist interest" in attacking sports and entertainment venues as well as luxury hotels.
CNN: Fertility clinic to couple: You got the wrong embryos
On a cold morning in February, 10 days after undergoing in vitro fertilization, Carolyn Savage lay in bed at her Ohio home waiting for the results of her pregnancy test.
CNN: Report: Tent set up in New York suburbs for Gadhafi
A tent was erected on a property in Westchester County, New York, in anticipation of Libyan leader Moammar Gadhafi's visit to the United States for the United Nations General Assembly, police told CNN affiliate WABC Tuesday.
CNN: Police: Initial findings don't link Garridos to other disappearances
Investigators who completed their search of the California property belonging to kidnapping suspects Phillip and Nancy Garrido said initial findings do not connect the couple to the disappearances of two young girls.
CNN: New York Post not laughing at climate change spoof
A day before the United Nations held a climate change summit, New York City was blanketed with 100,000 fake copies of the New York Post tabloid, filled with content related to climate change.
CNN: Five found killed in Illinois home
Five members of a family were found slain in their Beason, Illinois, home, authorities said Tuesday, and they urged people in the area to be cautious until the killer is found.
CNN: State of emergency declared in California wildfire
Firefighters continued to battle a fire in southwest California that ripped through the hills and rugged canyons of Ventura County, threatened hundreds of homes and prompted Gov. Arnold Schwarzenegger to declare a state of emergency.
CNN: Commission penalizes swim club in Pennsylvania racism complaint
The Pennsylvania Human Rights Commission issued a finding of probable cause Tuesday that racism was involved in the decision last June by a suburban Philadelphia swim club to revoke privileges of a largely minority day care center.
New York Times: Chase and Bank of America Revise Fee Policies
Bank of America and JPMorgan Chase, two of the nation's biggest banks, announced plans on Tuesday to drastically overhaul their debit card programs by lowering or eliminating fees, changing the way they credit transactions and allowing customers to opt out of overdraft protection.
New York Times: U.S. Closes Mexico Border Crossing After Shootout
Federal agents opened fire Tuesday on three vans carrying at least 70 people suspected of being illegal immigrants when the drivers of the vehicles tried to crash through a California border crossing that is considered the busiest such crossing in the world, officials said. Four people were injured.
USA TODAY: Cronkite records destroyed by FBI
The FBI destroyed its files on former CBS News anchorman Walter Cronkite two years ago under a policy that has been criticized by researchers for allowing potentially valuable records to be wiped out.
Los Angeles Times: Supreme Court to weigh depictions of animal cruelty
The video images were disturbing - a tiny white kitten singed with the flame from a lighter; a gray cat struggling beneath a woman's spiked heel; pit bulls tearing into a trapped animal.
INTERNATIONAL
For the latest international news: http://edition.cnn.com/
CNN: Obama drops demand that Israel freeze settlements
Prodding Israel and the Palestinian Authority to restart talks aimed at a permanent resolution of their decades-old conflict, President Obama dropped a demand for an Israeli settlement freeze, U.S., Israeli and Palestinian officials said.
CNN: Desperation stalks Zimbabwe's white farmers
A desperate Zimbabwean farmer fighting to hold onto his land - a year after the country's political rivals pledged to govern jointly - fears he will eventually lose to politics and violence.
CNN: Honduran military uses tear gas on ousted leader's supporters
The Honduran government extended a nationwide curfew to 36 hours Tuesday, as the country awaits the consequence of the surprise return of deposed President Jose Manuel Zelaya.
CNN: NATO chief: We must succeed in Afghanistan
More resources and personnel are needed to train Afghan security forces so they can become "masters in their own house," NATO's secretary-general said Tuesday.
CNN: Chinese president pledges steps to combat climate change
Chinese President Hu Jintao told a U.N. summit on climate change Tuesday that China will reduce greenhouse gas emissions and increase reliance on clean energy sources in coming years.
CNN: France passes tough anti-piracy measure
French lawmakers passed a tough new measure to crack down on illegal downloading.
CNN: Russian chess legends face off
Chess legends Garry Kasparov and Anatoli Karpov faced off again in Spain on Tuesday, 25 years after their epic first world championship battle in Moscow, in what organizers are calling a "historic revenge match."
New York Times: Russia, Plagued by Heroin Use, to Press U.S. on Destroying Afghan Poppy Crops
During talks this week with his American counterpart, Russia's top drug enforcement official, Viktor P. Ivanov, will press the United States to step up efforts to destroy Afghan poppy cultivation, which he said was feeding a devastating drug problem in Russia.
Washington Post: For French, U.S. Health Debate Hard To Imagine
When Jean-Louis Aloy could no longer walk comfortably among his olive trees in the hills above Marseille, he knew the time had come. Bowing to doctor's orders, he checked in to a hospital for a long-delayed back operation.
BUSINESS
For the latest business news: www.CNNMoney.com.
CNNMoney: Here comes Dow 10,000. Again
The FDIC deposit fund is running out of money. The dollar continues to look like a 97-pound weakling against the euro and gold is above $1,000 an ounce.
CNNMoney: Health insurer tax not what it seems
It sounds so simple. Insurers that offer very expensive health insurance policies will have to pay a tax and the revenue raised will help pay for health reform and possibly lower health care costs.
New York Times: University Funds Report Steep Investment Losses
Steep investment losses have caused painful cutbacks at some of the nation's best-known universities over the most recent fiscal year and have prompted questions about whether their endowments are taking too much risk.
New York Times: With a Receptive White House, Labor Begins to Line Up Battles
When China's president, Hu Jintao, attends the G-20 summit meeting this week in Pittsburgh, he will no doubt complain about the punitive tariffs that the Obama administration recently slapped on Chinese tires and steel.
Wall Street Journal: IBM Markets Wares to Africa
International Business Machines Corp. will try to sell a new package of low-priced computer desktop applications to companies and governments in Africa, challenging Microsoft Corp. and other rivals in the region.
In Case You Missed It
To watch the latest interviews and reporting: http://www.cnn.com/video.
CNN: Exploring the Arctic waters
CNN's Phil Black takes us on a breathtaking trip through the iceberg-laden waters of the Arctic.
Subscribe to the CNN=Politics DAILY podcast at http://www.cnn.com/politicalpodcast.
And now stay posted on the latest from the campaign trail by downloading the CNN=Politics SCREENSAVER at http://www.CNN.com/situationroom.