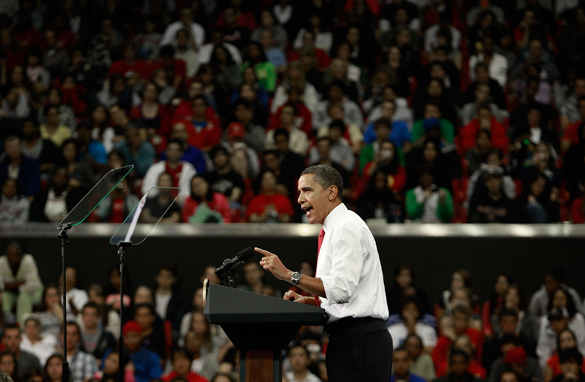 A new poll suggests most Americans don't feel the president is over exposed. (Getty Images)
WASHINGTON (CNN) - Is President Barack Obama overexposed? A new national poll indicates the answer is no.
Fifty-four percent of people questioned in an NBC News/Wall Street Journal survey say they're seeing the right amount of Obama, with 34 percent saying they see and hear too much of the president and 9 percent suggesting they don't hear enough from the president .
The poll, released Tuesday night, also indicates a partisan divide on the question, with 63 percent of respondents who voted for Republican John McCain in last year's presidential election saying they're seeing too much of the president, with only eight percent of people who voted for Obama feeling the same way.
According to the survey, 52 percent of independents believe Obama's exposure is OK and 40 percent say it's too much.
The president's media blitz began two weeks ago, with an address to a joint session of Congress that was seen on national television in prime time in much of the country. This past weekend Obama was a guest on five Sunday talk shows.
The NBC/Wall Street Journal poll was conducted Thursday through Sunday, as the president appeared on the Sunday talk shows but before his appearance on the Late Show with David Letterman. The survey was conducted by telephone with 1,005 adult Americans. The survey's sampling error is plus or minus 3 percentage points.
- CNN Deputy Political Director Paul Steinhauser contributed to this report