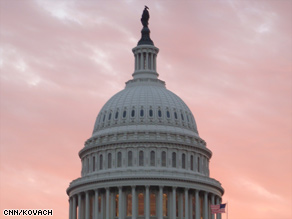 The CNN Washington Bureau's morning speed read of the top stories making news from around the country and the world.
WASHINGTON/POLITICAL
For the latest political news: www.CNNPolitics.com.
CNN: Calls for cooperation mix with raw rhetoric in U.N. speeches
World leaders, many reeling from a year marked by global economic freefall and a growing threat from global warming and nuclear proliferation, exhorted one another Wednesday to work together to meet those challenges.
CNN: At U.N., Obama calls for new era in world relations
President Obama made a forceful call Wednesday for a new era in global relations, urging the United Nations to move past old divisions and disputes to reassert itself as a leading force in confronting the most pressing issues of today.
CNN: Gadhafi talks of U.N. 'inequality,' conspiracies at U.N. debut
Moammar Gadhafi's debut appearance at the United Nations was bound to be memorable, but his long and rambling diatribe Wednesday is one that few will forget.
CNN: ACORN sues filmmakers
ACORN filed suit Wednesday in Baltimore, Maryland, against two filmmakers who secretly recorded videos embarrassing to the agency, claiming the pair violated state law by recording their conversations without permission of the employees involved.
CNN: Liberal Dem blasts ACORN
A leading liberal Democrat in the House blasted the embattled community organizing group ACORN Wednesday and said he is urging the White House to withhold any federal funding for the group.
CNN: U.S. scrambling to come up with new Afghanistan plan?
The Obama administration's national security team is working on alternative strategies for the war in Afghanistan that may not require tens of thousands of additional U.S. troops, a senior U.S. official told CNN Wednesday.
CNN: Request for more U.S. troops in Afghanistan expected soon
The top U.S. commander in Afghanistan will send his request for more resources to combat the insurgency there in the next several days, according to a senior U.S. defense official familiar with the situation.
CNN: Ahmadinejad at U.N.: Iran ready to work with other nations
Iranian President Mahmoud Ahmadinejad said Wednesday that his country is committed to helping build a durable peace and security worldwide based on justice, spirituality and dignity.
CNN: Protesters decry Ahmadinejad, Gadhafi at U.N.
Thousands of protesters descended on the area near the United Nations on Wednesday, shouting their condemnation of Iranian President Mahmoud Ahmadinejad on the day of his speech before the General Assembly.
CNN: Medvedev signals openness to Iran sanctions after talks
Russian President Dmitry Medvedev met Wednesday with U.S. President Barack Obama, then signaled he could support sanctions against Iran over its efforts to develop a nuclear weapon.
CNN: Some early exits as Palin woos Hong Kong investors
Sarah Palin touched on a host of topics - including Reaganomics, China and human rights, Tibet, the Asian and U.S. economies, family and moose in Alaska - as she delivered a speech to investors Wednesday in Hong Kong, according to audience members.

CNN: Poll: Obama not overexposed
Is President Barack Obama overexposed? A new national poll indicates the answer is no.
CNN: Paterson's wife says situation is 'very unfair'
Speaking out for the first time, Gov. Paterson's wife says it is "very unfair," that her husband be asked not to run for re-election.
CNN: Interim replacement for Kennedy's Senate seat to be announced
Massachusetts Gov. Deval Patrick will announce an interim replacement Thursday for the U.S. Senate seat left open by the late Sen. Ted Kennedy.
CNN: Schilling rules out bid for Kennedy's seat
Pitching legend Curt Schilling has decided not to run for the Massachusetts Senate seat left open by the late Sen. Ted Kennedy.
CNN: Kirk is Kennedy family favorite to fill Mass. Senate seat
Two Kennedy family associates tell CNN's John King that Paul Kirk, longtime senior aide to the late Sen. Ted Kennedy, is the family's favorite to fill his vacant Senate seat — and that the late senator's sons have relayed this view to Gov. Deval Patrick.
CNN: Former Bush speechwriter: 'no regrets' over memoir
Former speechwriter Matt Latimer said on CNN on Wednesday that he has "no regrets" about writing a tell-all memoir about his time spent in George W. Bush's White House.
CNN: Confederate flag again at issue in South Carolina
One of South Carolina's Republican candidates for governor is open to talking with the NAACP about ending its boycott of the state for flying the Confederate flag in front of the Statehouse.
CNN: Census Director addresses politics of 2010 count
In the first monthly briefing in the run-up to the start of the 2010 Census, the director of the Census Bureau was frank Wednesday about the constant political pressures his agency is under but the Census Director Robert Groves insisted that the upcoming national count will be conducted in a nonpartisan way.
CNN: Corzine accuses Christie of 'throwing his weight around' in new ad
With 42 days before New Jersey residents head to the polls, Gov. Jon Corzine's campaign released a new ad Wednesday blasting Republican opponent Chris Christie for throwing "his weight around" as U.S. attorney to gain special treatment in the state.
CNN: Deeds says he will raise taxes if necessary
Calling his plan "honest, straightforward — and the only one that can succeed," Virginia's Democratic gubernatorial candidate Creigh Deeds re-iterated on Wednesday that he will raise taxes to fix the state's transportation problems if necessary.
Washington Post: Iranian Leader Offers U.S. Access To the Country's Nuclear Scientists
Iran is willing to have its nuclear experts meet with scientists from the United States and other world powers as a confidence-building measure aimed at resolving concerns about Tehran's nuclear program, Iranian President Mahmoud Ahmadinejad said Wednesday.
New York Times: Senator Tries to Allay Fears on Health Overhaul
Senator Bill Nelson of Florida desperately wants to expand health insurance coverage because one in five Floridians is uninsured. As a former state insurance commissioner, he wants to crack down on insurers. And as a member of the Senate Finance Committee, he can shape legislation to achieve both goals.
New York Times: Obama to Use Current Law to Support Detentions
The Obama administration has decided not to seek new legislation from Congress authorizing the indefinite detention of about 50 terrorism suspects being held without charges at at Guantánamo Bay, Cuba, officials said Wednesday.
Washington Post: Geithner Presses for Regulatory Overhaul
Treasury Secretary Timothy F. Geithner on Wednesday once again pressed Congress to pass a comprehensive overhaul of the nation's financial regulatory system, telling members of the House Financial Services Committee that "we can't let the momentum for reform fade as the memory of the crisis recedes."
Los Angeles Times: Mandate minus price controls may increase healthcare costs
In the drive to bring health coverage to almost every American, lawmakers have largely rejected restrictions on how much insurers can charge, sparking fears that consumers will continue to face the skyrocketing premium increases of recent years.
POLITICO: Ron Paul-inspired candidates make impact
It's been over a year since Rep. Ron Paul (R-Texas) energized libertarians with his presidential candidacy, but the movement he inspired continues to ripple across the landscape.
NATIONAL
For the latest national news: www.CNN.com.
CNN: Mexican smugglers use Pacific as new route
Mexican smugglers trying to find new routes into the United States are turning increasingly to the Pacific Ocean for a short sail to the California coast, where they drop off illegal immigrants and marijuana, U.S. officials say.
CNN: Mother recalls night flood changed everything
A clanking noise woke Bridgett Crawford after midnight on Monday. She was sleeping on the couch with her 1-year-old son, Cooper, as rain pounded their mobile home off Horsley Mill Road near Snake Creek.
CNN: Greenpeace protesters dangle from Pittsburgh bridge
In what appeared to be the most visible demonstration yet of this week's G-20 summit, four people attached to a massive banner dangled from a Pittsburgh bridge Wednesday to protest the global economic meeting.
CNN: In Craigslist slaying, Internet was also suspect's undoing
They were crimes born of the Internet age - romantic solicitations on popular Web site Craigslist that police say led to the fatal shooting of one woman and the robbery of another in Boston hotels this past spring.
CNN: Hospital chief resigns in wake of killer's escape
The head of a Washington state mental institution resigned amid an investigation into the escape of a legally insane killer, the state's health department announced Wednesday.
CNN: Pittsburgh in spotlight as G-20 summit approaches
Pittsburgh conjures up visions of steel mills and gritty sports teams for many. The host city of this week's Group of 20 summit hopes to update that image.
CNN: Second missing California runner found
A second runner missing since Monday was found near a ravine on a rugged mountain trail in Southern California hours after her running partner was found, an Orange County Sheriff's spokesman told CNN.
CNN: In Nassau, Travolta testifies about day son Jett died
John Travolta spoke publicly for the first time Wednesday about his desperate efforts to save his teenage son's life after he suffered a seizure at the family's vacation home in the Bahamas in January.
CNN: California fire began in mulch pile, investigators say
A fire in steep canyons and rural communities near Los Angeles, California, originated in a mulch pile, investigators have found, and they are trying to determine how it started, a fire official said Wednesday.
New York Times: A Clip-and-Save Renaissance
Heather Hernandez walked into a supermarket with a stack of coupons last month and walked out with $160 worth of groceries, for which she paid $30.
New York Times: Oil Industry Sets a Brisk Pace of New Discoveries
The oil industry has been on a hot streak this year, thanks to a series of major discoveries that have rekindled a sense of excitement across the petroleum sector, despite falling prices and a tough economy.
New York Times: New York Police Official in Terror Unit Is Removed
The New York Police Department has removed a senior official from one of its two sometimes competing antiterrorism units, after it played a role in disrupting a sensitive federal terrorism investigation, current and former police officials said on Wednesday. He was replaced by a top official from the other unit.
New York Times: Immigrants Cling to Fragile Lifeline at Safety-Net Hospital
If Grady Memorial Hospital succeeds in closing its outpatient dialysis clinic, Tadesse A. Amdago, a 69-year-old immigrant from Ethiopia, said he would begin "counting the days until I die." Rosa Lira, 78, a permanent resident from Mexico, said she also assumed she "would just die." Another woman, a 32-year-old illegal immigrant from Honduras, said she could only hope to make it "back to my country to die."
Washington Post: Counting On A Shorter Form To Improve Census Tally
The first of 198 million Census forms are rolling off the printing presses. Hundreds of thousands of Census workers have eyeballed virtually every domicile in the land to make sure the agency's address list is correct. Training centers are being opened, as are call centers to clear up any confusion over the questionnaire.
McClatchy: White supremacists to rally in Illinois town over bus attack
Two rallies are planned Saturday in response to a recent attack on school bus - one linked to several white supremacy groups and a counter protest hosted by a reverend.
INTERNATIONAL
For the latest international news: http://edition.cnn.com/
CNN: Taliban suspected of stockpiling 'missing' Afghan opium
Enough Afghan opium to supply world demand for two years has effectively gone missing, with the Taliban suspected of stockpiling supplies in a bid to corner the market, the United Nations Office for Drugs and Crime (UNODC) has revealed.
CNN: Report: Suicide bomber in Somalia lived in U.S.
An online report has identified a Somali-American from Seattle, Washington, as one of the suicide bombers who killed 21 peacekeepers in Mogadishu, Somalia, last week.
CNN: Blair: Mideast peace talks will restart soon
Former British Prime Minister Tony Blair said Wednesday that he believes within weeks Israel and the Palestinian Authority will begin talks aimed at a permanent resolution of their decades-long conflict.
New York Times: Taliban Widen Afghan Attacks From Base in Pakistan
Senior Taliban leaders, showing a surprising level of sophistication and organization, are using their sanctuary in Pakistan to stoke a widening campaign of violence in northern and western Afghanistan, senior American military and intelligence officials say.
New York Times: For First Time, AIDS Vaccine Shows Some Success in Trials
A new AIDS vaccine tested on more than 16,000 volunteers in Thailand has protected a significant minority against infection, the first time any vaccine against the disease has even partly succeeded in a clinical trial.
USA TODAY: U.S. college recruiters find growing market overseas, in Vietnam
Besides the brochures, application forms and give-away trinkets spread on the table in front of her, Claudia Colnar keeps a U.S. map handy. Inevitably, "Where's Wyoming?" is the first question she'll get when recruiting Vietnamese students to her community college.
BUSINESS
For the latest business news: www.CNNMoney.com.
CNNMoney: Whip inflation later?
The Federal Reserve is going to keep interest rates near zero for the foreseeable future. That much is certain.
CNNMoney: Banks win round 1 in consumer fight
This summer, when Obama administration officials talked about overhauling financial regulation, they threw around a catchy phrase sure to appeal to consumers: "Plain vanilla" mortgages and credit cards.
CNNMoney: Ford unveils the Figo, new small car for India
Ford Motor Company unveiled a new small car at a press conference in Delhi, India on Wednesday. The subcompact, which is called the Figo, will be produced in India for the Indian market, as well as for export to other Asian countries and Africa.
In Case You Missed It
To watch the latest interviews and reporting: http://www.cnn.com/video.
CNN: The trophy comes to Africa
CNN's Ben Wedeman gets an exclusive view of the first step of the World Cup trophy's 77-day tour of Africa.
Subscribe to the CNN=Politics DAILY podcast at http://www.cnn.com/politicalpodcast.
And now stay posted on the latest from the campaign trail by downloading the CNN=Politics SCREENSAVER at http://www.CNN.com/situationroom.