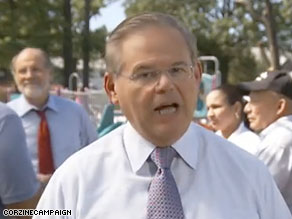 Corzine campaign released it's first spanish language TV ad.'
WASHINGTON (CNN)– Making a direct appeal to Hispanic voters in New Jersey, Gov. Jon Corzine's campaign released it's first spanish language TV ad Friday featuring Sen. Bob Menendez touting the governor's steadfast nature while condemning opponents for unwarranted attacks.
"In this economic crisis, New Jersey is one of the states that has suffered the least because of the stewardship of Jon Corzine," Menendez says in the 30-second spot. "He has made difficult, but necessary measures which is why he has been attacked unfairly."
"...New Jersey has the best high school graduation percentage in the country," Menendez continues, citing Corzine's $4 billion investment in new schools.
Nearly 14 percent of New Jersey's population is made up of spanish speaking households, with 15.6 percent identifying themselves as hispanic.
The ad called, "Nuestro Gobernador y la Educación" which translates as 'Our Governor and Education,' is airing on broadcast television throughout New Jersey, New York and Philadelphia.