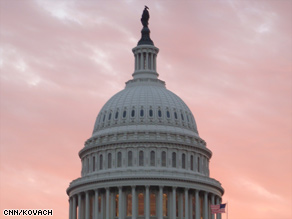 The CNN Washington Bureau's morning speed read of the top stories making news from around the country and the world.
WASHINGTON/POLITICAL
For the latest political news: www.CNNPolitics.com.
CNN: King: Monday Memo: Will get-tough approach with Iran work this week?
It is a week that will see a potentially defining test in the health care debate, and yet those negotiations are likely to be overshadowed by a set in which Iran has a seat at the table and at which the administration's new claim of leverage in the nuclear standoff with Iran will be put to the test.
CNN: Iran fires off long-range missile in latest test
Iran test fired a long-range Shahab-3 missile on Monday, state-run Press TV reported.
CNN: Gates lays out non-military options to deal with Iran
Defense Secretary Robert Gates says Iran's secret underground nuclear facility revealed this week is illegal and likely intended for military purposes.
CNN: U.S. to Iran: Prove your nuclear program is peaceful
The United States wants Iran to provide international inspectors with full access to a newly disclosed underground uranium enrichment plant that Obama administration officials say is both illegal and probably intended for developing weapons.
CNN: Iran nuclear official says IAEA can inspect new plant
The head of Iran's Atomic Energy Organization said Saturday that U.N. nuclear experts can inspect a uranium enrichment plant, according to a report from Iran-funded Press TV.
CNN: Gates: Closing Guantanamo prison 'more complicated'
Defense Secretary Robert Gates acknowledges that closing the U.S. military prison at Guantanamo Bay, Cuba, will likely take longer than planned.
CNN: Bill Clinton: 'Vast right-wing conspiracy' as 'virulent' as ever
The "vast right-wing conspiracy" that attacked him during his presidency has been weakened, but continues to operate against President Obama, former President Clinton said Sunday.
CNN: New York governor on 2010 bid: 'I'm blind but I'm not oblivious'
Embattled New York Gov. David Paterson vowed Sunday he won't give in to White House pressure to drop out of next year's election, insisting, "I am not failing to stand up for my party."
CNN: 'I very much enjoy working for' Obama, Gates says
Defense Secretary Robert Gates, who was a prominent member of former President George W. Bush's Cabinet, told CNN that he is enjoying working for Bush's Democratic successor.
CNN: Gates: Any new troops to Afghanistan wouldn't 'flow' til early 2010
The Afghanistan conflict has proven more difficult than anticipated, Defense Secretary Robert Gates said in echoing President Barack Obama's deliberative approach on whether to send more troops.
CNN: Corker: 'Table couldn't be set better' for talks with Iran
Senators on both sides of the aisles are expressing their support for tough economic sanctions against Iran as the United States prepares to join five other global powers in nuclear talks with the Middle Eastern country.
CNN: Romney: Obama acting 'above' world stage
Former Massachusetts Gov. Mitt Romney had sharp words for President Barack Obama's handling of foreign relations Saturday, saying that the president is "above" the world stage and acting too much as a "neutral arbiter" who uses only words to tell other nations what's right and what's wrong.
CNN: Congresswoman's husband dies in Tibet, spokesman says
Clifton Maloney - the 71-year-old husband of U.S. Rep. Carolyn Maloney, D-New York - died apparently from natural causes in Tibet during a mountain-climbing trip, a spokesman for the congresswoman told CNN Saturday.
Washington Post: U.S., Allies Vow Support for Karzai
The United States and NATO countries fighting in Afghanistan have told President Hamid Karzai's government that they expect him to remain in office for another five-year term and will work with him on an expanded campaign to turn insurgent fighters against the Taliban and other militant groups.
New York Times: U.S. Is Seeking a Range of Sanctions Against Iran
The Obama administration is scrambling to assemble a package of harsher economic sanctions against Iran over its nuclear program that could include a cutoff of investments to the country's oil-and-gas industry and restrictions on many more Iranian banks than those currently blacklisted, senior administration officials said Sunday.
New York Times: New Cheney Taking Stage for the G.O.P.
Liz Cheney looks nothing like her father, but it is clear who he is. She was introduced as "our favorite vice president's daughter" at a recent gathering of conservative women here. She kept invoking him in her speech, conveying his best regards, and likes to share cute stories about Dad trying to master his new BlackBerry.
New York Times: Reid the Quarterback May Call on Obama to Referee
As the Senate majority leader, Harry Reid, Democrat of Nevada, takes on the delicate task of melding two competing versions of major health care legislation, aides say he will lean heavily on President Obama to arbitrate a number of contentious issues that still threaten to divide liberal and centrist Democrats and derail a final bill.
Washington Post: 2 Brothers' Grim Tale Of Loyalty And Limbo
Bahtiyar Mahnut, a detainee at the U.S. military prison at Guantanamo Bay, learned a few weeks ago that the Pacific island nation of Palau had invited him to settle there.
Washington Post: On Medicare Spending, a Role Reversal
After years of trying to cut Medicare spending, Republican lawmakers have emerged as champions of the program, accusing Democrats of trying to steal from the elderly to cover the cost of health reform.
POLITICO: A declaration of independents in 2010
Independent candidates are poised to run serious campaigns for governor in at least a half-dozen states, a development that threatens Democratic fortunes in some of the bluest and most progressive-minded states in the nation.
NATIONAL
For the latest national news: www.CNN.com.
CNN: Columnist William Safire dies at 79
William Safire, a onetime speechwriter for President Nixon who became a Pulitzer Prize-winning columnist for The New York Times, has died at age 79, the newspaper announced Sunday.
CNN: Limited cargo traffic resumes on Ohio River after lock break
A lock break occurred on the Ohio River near Warsaw, Kentucky, on Sunday, stopping barge traffic for several hours as the Army Corps of Engineers investigated.
CNN: Man unhurt after sneaking into bear exhibit at zoo
A man snuck into the grizzly bear exhibit at the San Francisco Zoo Saturday but was rescued immediately afterward without incident, authorities said.
New York Times: Truckers Insist on Keeping Computers in the Cab
Crisscrossing the country, hundreds of thousands of long-haul truckers use computers in their cabs to get directions and stay in close contact with dispatchers, saving precious minutes that might otherwise be spent at the side of the road.
New York Times: Don't Blame Shots for All Ills, Swine Flu Officials Say
As soon as swine flu vaccinations start next month, some people getting them will drop dead of heart attacks or strokes, some children will have seizures and some pregnant women will miscarry.
Boston Globe: You better watch out
Clad in cargo pants and flip-flops on a recent day that reached into the upper 70s, Marie Mason browsed the aisles at Kohl's with a breezy nonchalance. She had no list, no shopping agenda to speak of. Just skimming about for something to strike her fancy.
INTERNATIONAL
For the latest international news: http://edition.cnn.com/
CNN: Polanski arrested in connection with 1970s sex charge
Oscar-winning filmmaker Roman Polanski has been arrested in Switzerland on a decades-old arrest warrant stemming from a sex charge in California, Swiss police said Sunday.
CNN: German exit polls show Merkel retains office
German Chancellor Angela Merkel defeated her foreign minister Sunday to win another four-year term, according to exit polls reported by German television network NTV.
CNN: Honduras' leaders push back after Brazilian Embassy snub
Brazil on Sunday rejected an ultimatum from Honduras' de facto government to decide the status of ousted President Jose Manuel Zelaya, who has been holed up in the South American country's embassy in Honduras since last week.
CNN: August deadliest month of 2009 for Afghan civilians, UN says
August had the most fatalities this year for civilians in Afghanistan because of the country's disputed election, and violence could rise again when the final results are released, a U.N. report warns.
CNN: U.S.: Drone hits Islamic Party building in Mosul
A U.S. drone crashed in northern Iraq Saturday morning, damaging the Mosul branch of the powerful Iraqi Islamic Party - the nation's largest Sunni political party, a U.S. military spokesman confirmed.
CNN: Bird-eating frog among 163 new species found in Mekong region
A frog that eats birds and a gecko with leopard stripes are among the 163 new species discovered last year in the Greater Mekong region of southeast Asia, according to a report by the World Wildlife Fund.
CNN: Dozens dead as flooding engulfs Manila
Downpours subsided temporarily in the Philippines on Sunday, a day after Tropical Storm Ketsana pummeled the capital Manila with its heaviest rainfall in more than 40 years.
CNN: Turks mourn relative of Ottoman sultan
More than 80 years after his family was ordered from the country, the grandson of one of the last Ottoman sultans was buried Saturday as hundreds of admirers looked on.
New York Times: Many Investors Still Avoid Risks of Iraq
The Diyala State Company for Electrical Industries here staggers along, making transformers, spark plugs, ceiling fans and steam irons that few want or can afford anymore.
New York Times: Nannies Get a Holiday. Rich Families Get a Suite.
Every year at the end of Ramadan, millions of maids, nannies and chauffeurs make their annual pilgrimages to their hometowns across Indonesia, leaving their pampered employers to fend for themselves.
Wall Street Journal: Iran's Global Foray Has Mixed Results
Last year, a delegation of Iranians and other foreigners arrived at this tiny, remote coastal village in speedboats. They came to map out plans to build a $350 million deep-water port and a new city.
Wall Street Journal: IMF Says It Battled Crisis Well
The International Monetary Fund, in a broad self-evaluation, said it acted effectively in combating the global recession, especially in Eastern Europe, a finding that is bound to deepen the debate on the IMF's crisis-fighting abilities.
BUSINESS
For the latest business news: www.CNNMoney.com.
CNNMoney: Gas prices in two-month slide
Gas prices have dropped seven cents over the past two weeks, continuing a downward slide that has lasted nearly two months, according to a survey published Sunday.
CNNMoney: Stocks at a tipping point ahead of crucial week
The market rally finally hit some resistance last week, giving investors in the week ahead an opportunity to get back in at lower levels – or get out before the going gets worse.
In Case You Missed It
To watch the latest interviews and reporting: http://www.cnn.com/video.
CNN: Iraq's solar clinics
CNN's Mohammed Jamjoom reports on how solar power is transforming Iraqi health clinics.
Subscribe to the CNN=Politics DAILY podcast at http://www.cnn.com/politicalpodcast.
And now stay posted on the latest from the campaign trail by downloading the CNN=Politics SCREENSAVER at http://www.CNN.com/situationroom.