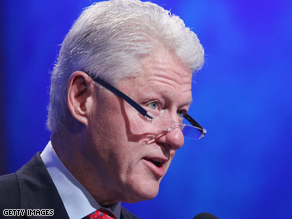 Clinton will campaign with Gavin Newsom next week.
(CNN) - Former President Bill Clinton will visit Los Angeles next week in support of Democratic gubernatorial candidate and current San Francisco Mayor, Gavin Newsom.
Newsom and Clinton are scheduled to hold an event at L.A. City College on Monday, October 5. Later that day, WJC will attend a fundraiser for Newsom's primary gubernatorial bid.
Newsom aggressively campaigned for now-Secretary of State Hillary Clinton during her unsuccessful campaign to capture the Democratic nomination for the presidency in 2008.
Newsom and Clinton plan to tour a new LEED-certified Science and Technology Building at the LACC and speak to faculty and students about green technology jobs and education.