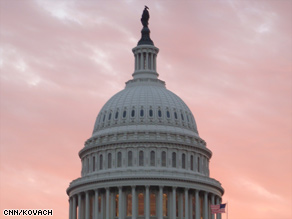 The CNN Washington Bureau's morning speed read of the top stories making news from around the country and the world.
WASHINGTON/POLITICAL
For the latest political news: www.CNNPolitics.com.
CNN: U.S. must win Afghan hearts and minds, commander says
The top U.S. commander in Afghanistan wants more troops and a new strategy - but most importantly, he wants to win the battle for the hearts and the minds of the people in the war-torn country.
CNN: Secret Service investigating Facebook poll on Obama
The social networking site Facebook on Monday pulled a third-party application that allows users to create polls after a site member built a poll asking if President Obama should be killed.
CNN: Palin's book to be called 'Going Rogue: An American Life'
Sarah Palin's much-anticipated memoir now has a title and a new release date, two advisers to the former Alaska governor confirmed to CNN on Monday.
CNN: Baucus targeted by liberal groups in new ad
Senate Finance Committee Chairman Max Baucus, D-Montana, is facing heightened criticism from members of the liberal wing of the Democratic Party over his panel's health reform bill that lacks the so called "public option" for health insurance.
CNN: Can tech personalities break into politics?
Ronald Reagan and Arnold Schwarzenegger have both done it. So did astronaut John Glenn and basketball great Bill Bradley. Even Jesse Ventura was able to capitalize on a wrestling career as a way to leap into the political ring.
CNN: Obama plans trip to Denmark to seek Olympics
President Obama will travel this week to Copenhagen, Denmark, to make a big push for holding the 2016 Summer Olympic Games in Chicago, Illinois, the White House said Monday.
CNN: For Chicago's '16 bid, Michelle Obama vows to 'take no prisoners'
First Lady Michelle Obama vowed Monday to "take no prisoners" as she and her husband launch an unprecedented bid for Chicago's 2016 Olympic bid.
CNN: Rangel tells Obama to back off of local politics
Rep. Charlie Rangel, D-New York, is making it known he's not happy with President Obama's recent meddling in the state's 2010 gubernatorial race.
CNN: Commentary: Obama should listen to Biden
Vice President Joseph Biden is emerging as an important voice within the White House on the war in Afghanistan.
CNN: Romney says he wants to return to Iraq and Afghanistan
Mitt Romney says he wants to return to Iraq and Afghanistan. Eric Fehrnstrom, an adviser for the the former Massachusetts governor and 2008 Republican presidential candidate, tells CNN that "we are working through the appropriate channels to make this happen."
CNN: Gingrich, Jindal raise $350,000 for McDonnell
Bob McDonnell is having a good day. The Republican candidate for governor in Virginia will rake in $350,000 on Monday thanks to a pair of fundraisers headlined by GOP stars Newt Gingrich and Bobby Jindal, a campaign aide told CNN.
CNN: Bill Clinton to headline New Hampshire Dem fundraiser
Former President Bill Clinton will headline a major fundraiser for the New Hampshire Democratic Party in December, giving a little back to a state that has favored his family when it comes to politics.
CNN: Whitman, Fiorina reject California GOP 'straw poll'
Two Republican statewide candidates in California are touting the results of a state GOP convention straw poll that showed conservative activists overwhelmingly rejecting the gubernatorial bid of former eBay CEO Meg Whitman and the likely Senate bid of former Hewlett-Packard CEO Carly Fiorina.
New York Times: Abortion Fight Complicates Debate on Health Care
As if it were not complicated enough, the debate over health care in Congress is becoming a battlefield in the fight over abortion.
New York Times: A Nuclear Debate Brews: Is Iran Designing Warheads?
When President Obama stood last week with the leaders of Britain and France to denounce Iran's construction of a secret nuclear plant, the Western powers all appeared to be on the same page.
New York Times: In Some States, a Push to Ban Mandate on Insurance
In more than a dozen statehouses across the country, a small but growing group of lawmakers is pressing for state constitutional amendments that would outlaw a crucial element of the health care plans under discussion in Washington: the requirement that nearly everyone buy insurance or pay a penalty.
New York Times: Majority Leader Protects Home State
The Senate majority leader, Harry Reid of Nevada, has secured a special deal protecting his state against the costs of expanding Medicaid under one of the major health care bills moving through Congress.
Washington Post: U.S. Aims To Isolate Iran if Talks Fail
The Obama administration is laying plans to cut Iran's economic links to the rest of the world if talks this week over the country's nuclear ambitions founder, according to officials and outside experts familiar with the plans.
Washington Post: U.S. Says Taliban Has A New Haven in Pakistan
As American troops move deeper into southern Afghanistan to fight Taliban insurgents, U.S. officials are expressing new concerns about the role of fugitive Taliban leader Mohammad Omar and his council of lieutenants, who reportedly plan and launch cross-border strikes from safe havens around the southwestern Pakistani city of Quetta.
Washington Post: More Help Coming To Clean Up Crisis
The Obama administration is close to rolling out two initiatives aimed at addressing lingering problems from the financial crisis: A long-delayed effort to cleanse financial firms of their toxic assets, and a $35 billion plan to prop up state programs that help lower-income borrowers get affordable mortgages.
Washington Post: U.S. Envoy's Outreach to Sudan Is Criticized as Naive
The volatility of this East African nation - from the Darfur conflict to the threat of renewed civil war in the south - is becoming a test of how President Obama will reconcile a policy of engagement with earlier statements blasting a government he said had "offended the standards of our common humanity."
McClatchy: Utilities quit group over its opposition to climate change bill
Exelon, the nation's biggest operator of nuclear power plants, said Monday that it's quitting the U.S. Chamber of Commerce because of the business group's lobbying against climate and energy legislation.
NATIONAL
For the latest national news: www.CNN.com.
CNN: Official: Suspect admits role in beating death of Chicago teen
One of the suspects accused of killing an honor student in a beating captured on tape in Chicago has admitted to jumping on the victim's head after he was already lying on the ground, said a spokeswoman for the Cook County State's Attorney.
CNN: Polanski will fight extradition, lawyers say
Filmmaker Roman Polanski, arrested in Switzerland over the weekend, will fight extradition to the United States where he faces sentencing for having sex with a 13-year-old girl, his California lawyers said Monday.
CNN: Connecticut police say they've caught female bank robber
Police in Connecticut say they have arrested a woman suspected of robbing at least six banks in the past week.
CNN: Yellowstone fire grows; park still open
A wildfire in Yellowstone National Park has grown to 9,300 acres and closed a section of the main road through the park, but Yellowstone is still open and National Park Service officials said Monday there was no danger to travelers.
CNN: Search for mom missing after Georgia flooding continues
Punctuality was one of Debbie Hooper's best traits
CNN: Workers thriving at 70, 80, and even 100
Jack Borden would like you to consider working well past retirement age. As a 101-year-old attorney, he has the credibility to encourage it.
New York Times: In a Parched Los Angeles, the Streets Suddenly Run Wet
This arid city is always looking for water. Lately, a lot of it can be found cascading down the streets.
USA TODAY: Should airlines let passengers make calls via Wi-Fi?
Roger Flessing was on an American Airlines flight to Seattle recently when he began speaking with his son on his iPhone.
INTERNATIONAL
For the latest international news: http://edition.cnn.com/
CNN: Philippines flood survivors count blessings
Huddled on the top floor of her home after waist-deep water inundated the lower story, Doranne Lim is bothered by the debris - and the smell.
CNN: U.N. says Israel committed war crimes in Gaza
A United Nations group will present a scathing report Tuesday on Israel's conduct during its military offensive into Gaza that began late last year.
CNN: U.S. to Honduras: End emergency decree now
The U.S. State Department is calling on Honduras' de facto president to immediately rescind an emergency decree that limits constitutional rights such as freedoms of expression, travel and public congregation.
CNN: Afghan FM: Abandoning nation would "embolden" extremists
Ahead of a United Nations Security Council briefing Tuesday on Afghanistan, the country's foreign minister urged patience from the international community in dealing with his struggling homeland.
CNN: Report: Peru's Fujimori pleads guilty in bribery case
Disgraced former Peruvian President Alberto Fujimori pleaded guilty to charges of illegal wiretapping and embezzling government money to bribe politicians and journalists to support his 2000 re-election campaign, the official Andina news agency reported.
CNN: ICE touts $41 million cash seizure in Mexico, Colombia
Mexican and Colombian officials working with U.S. agents have seized about $41 million in cash hidden in shipping containers, the U.S. Immigration and Customs Enforcement agency announced Monday.
CNN: U.S. Senator to meet Myanmar's prime minister
Sen. Jim Webb will meet with Myanmar's prime minister Monday on the sidelines of the United Nations General Assembly in New York City, the Virginia Democrat's office announced.
CNN: Honduras revisits emergency decree as frustrations mount
Roberto Micheletti, the de facto president of Honduras, announced Monday that he would lift an emergency decree that allows authorities to limit constitutional rights such as freedoms of expression, travel and gathering in public. But repeal of the law would not be immediate, pending a legal review, he said.
CNN: In his hometown, Mao a source of pride
"Mao is very great and famous, and he saved the whole of China," exclaims an 18-year-old woman from Wuhan in Hubei province. "Both young people and old people love Mao very much!"
CNN: Former Panama president Endara dies
Guillermo Endara, the former Panamanian president who succeeded Manuel Noriega after he was overthrown, died Monday evening, CNN en Español reported.
New York Times: In Bad Times for Capitalism, Socialists in Europe Suffer
A specter is haunting Europe — the specter of Socialism's slow collapse.
Wall Street Journal: Al Qaeda in Yemen Worries the West
Arab and Western officials worry that al Qaeda is securing a stronghold in Yemen, where the government's focus on quelling a rebel insurgency is allowing the terror group to strengthen its ability to destabilize neighbors in East Africa and the Mideast.
BUSINESS
For the latest business news: www.CNNMoney.com.
CNNMoney: Hudson River miracle pilot will fly again
Capt. Chesley "Sully" Sullenberger will fly again. The US Airways pilot who safely landed flight 1549 on the Hudson River in January will return to work as a management pilot, the airline announced Monday.
CNNMoney: Wall Street bonuses poised to rebound
With Wall Street continuing to recover, so are the prospects for this year's bonus season.
CNNMoney: The secret to a great job? A great résumé
The résumé is the gateway to most job openings. But even the most qualified candidates have trouble standing out on an 8-1/2 by 11 inch sheet of paper.
New York Times: Big Merger Deals Signal Restored Confidence
The corner office is getting a bit more bullish about the economy.
In Case You Missed It
To watch the latest interviews and reporting: http://www.cnn.com/video.
CNN: Polanski's victim speaks
In a 2008 HBO documentary, Samantha Geimer talked about what she thought was a chance to work with Roman Polanski.
Subscribe to the CNN=Politics DAILY podcast at http://www.cnn.com/politicalpodcast.
And now stay posted on the latest from the campaign trail by downloading the CNN=Politics SCREENSAVER at http://www.CNN.com/situationroom.