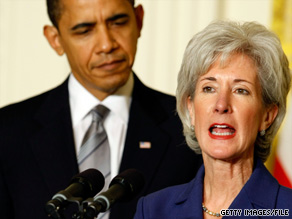 President Obama and Health Secretary Kathleen Sebelius will announce research grants Wednesday.
WASHINGTON (CNN) - President Barack Obama, in an effort to stimulate the economy and support critical research, will announce $5 billion dollars in grants when he visits the National Institutes of Health on Wednesday, according to an administration official.
The money comes from Recovery Act funds and is aimed at supporting "12,000 critical research projects - and tens of thousands of jobs associated with them, ranging from teachers and lab technicians to database managers and scientists," the official wrote in an e-mail.
Obama, who will be joined by Health Secretary Kathleen Sebelius and other top medical experts, will tour a lab before speaking at the NIH campus in Bethesda, Maryland.
More than 450 NIH employees, scientists, local officials and members of Congress are expected to be on hand.
The White House says the research grants are part of the Recovery Act's overall investment of $100 billion in innovative research and advancing science and technology infrastructure.